The ongoing pandemic has shown how drastic and sudden market changes can be. To survive in a rapidly changing environment, you should make retaining loyal customers the main priority. That means minimizing customer churn.
Even if your online store is doing well, you may still see churn. Maybe you're providing outdated information, or perhaps there's an issue with your landing page design. Either way, it's critical to be aware of the problem so you can quickly fix it.
So, let's talk about churn on an ecommerce landing page. How do you calculate it, and what factors should you address? Finally, what are best practices for improving customer retention?
What is customer churn and how do you calculate it?
Churn is what happens when customers decide they no longer want to buy your product or service. Let's say each month, some of your clients renew their subscriptions to your services and new customers register for it. At the same time, other customers cancel their subscriptions or fail to renew. Those lost customers are the churners.
To calculate churn, you need to figure out why these buyers lost interest. The reasons for this vary greatly. They may have started doing business with a competitor, been disappointed by the results, or had a poor customer support experience.
It could also mean you're targeting the wrong audience, in which case you might want to consider investing in customer success.
To track customer churn for a given period, subtract the number of clients who have converted on your landing page at the end of the chosen period from the number who converted at the beginning. Then, divide that amount by the total number of clients at the beginning of a chosen period.

If you're new to the market, your churn rate is likely to start out high, so don't hit the panic button if you see double-digit churn rates. However, if you don't see a decline in churn after a few months, it's time to investigate why.
What are acceptable churn rates for retail and SaaS?
To gauge whether your churn rates are acceptable, let's look at churn numbers for some successful marketers. Lincoln Murphy from Sixteen Ventures claims that a churn rate of between 5 and 7% per year is acceptable for SaaS businesses. Pacific Crest's 2016 survey reports that the median annual churn for SaaS is even higher at 10%.
For other industries, Statista offers the following average churn rates: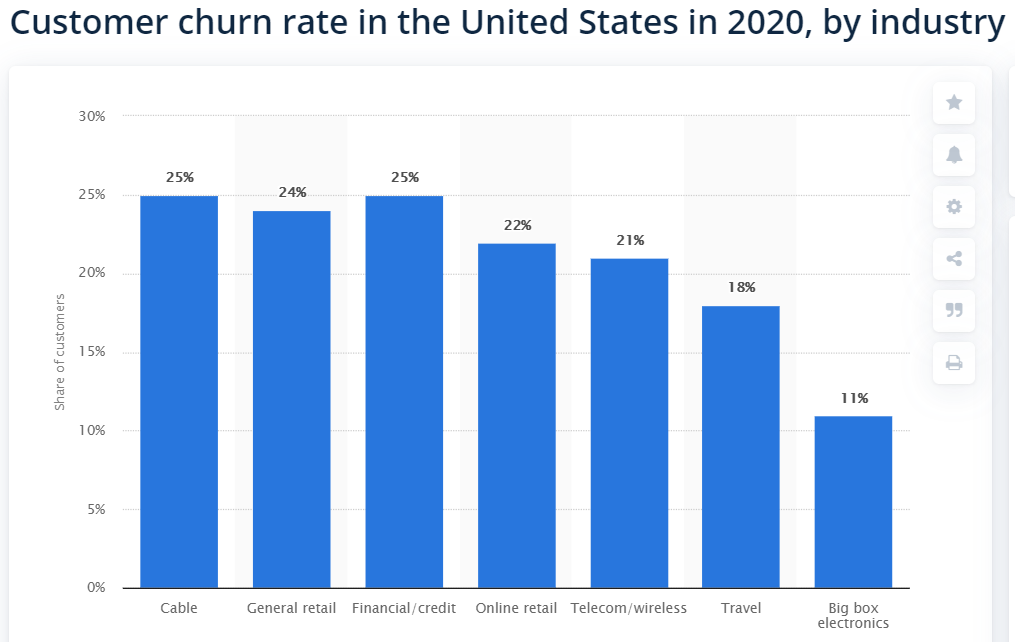 As you can see, there isn't a universal number you should aim for. Always consider your dynamic metrics to see whether your business is heading in the desired direction.
Tips to reduce churn and improve customer retention
1. Go the extra mile with your first impression
One secret to reducing churn is to set positive expectations of your product or service. If visitors have come to your website from an ad, they anticipate specific things before they ever get there. The closer your landing page matches what they imagined, the better their experience will be because using your product or service met their expectations. There is evidence that negative expectations result in worse user experience and vice versa.
Consider your landing page the start of a relationship with a prospective customer. It has to grab attention and make a positive first impression. Only after a potential lead has shown interest in your business can you start telling your story and ask for their personal information in return. Not all at once, but in small pieces, one at a time—just like you would get to know someone in person.
Users only need about 1/20 of a second to shape an opinion about a website and decide whether to stay or leave. Google's research proves users perceive simple designs that remind them of something they have already seen as more appealing. That means you should stick with common layouts and introduce innovative elements with caution.
2. Answer before there is a question
As visitors get interested in your offer, they will want to know more about it. A FAQ section is a valuable part of the customer journey, as it is the second place many visitors go after reviewing your product or service description. This quality makes FAQs a great traffic-driving tool to help your visitors quickly learn about your offer.
An FAQ section should contain relevant, quality content. Instead of guessing what you should cover, rely on software for creating FAQs that will help you get more insights into your customers' needs.
An FAQ section on your landing page is the chance to confirm your authority. You can advise people on using your product or service and add links to useful blog posts.
Another technique to inform customers is a "knowledge hub." This landing page section provides background information, such as facts about your industry. It sets up your company as an authoritative voice, which helps build trust among your customers and keep them engaged.
Finally, the research states that 40% of consumers prefer self-service to human contact. With this in mind, you can create a searchable FAQ page that will take away a lot of stress from your customer support department.
3. Focus on security
A recent report by Tableau Public shows that 48% of consumers have stopped doing business with companies due to privacy concerns. A Gallup poll shows that the average American is more worried about someone stealing their personal information than they are about being burglarized or mugged.
Take these security concerns seriously by showing your landing page is trustworthy. Invest in web-security related products and demonstrate security seals. The most important are:
SSL certificate (the latest security protocol, changes "HTTP" to "HTTPS" in a website URL)
PCI DSS (Payment Card Industry Data Security Standard — if applicable to your website)
A firewall badge
Use verified third-party providers for payments and other aspects of your landing page. Review statistics to choose a provider you can trust. For instance, PayPal is the most preferred payment option for UK customers.
Quality communication is also essential. Keep reminding your customers that your website is safe to use. Publish success stories and case studies, create a clear privacy policy, and provide several means of contacting your company in case of any issues.
4. Go personal
Consumers don't want to start from scratch every time they deal with the same company. Thus, Accenture found that people show more tendency to buy from brands that know them by name and make personalized recommendations based on their purchase history.
While not every company can afford to cater to each customer individually, it's wise to provide service based on segmentation. Use what you know about each segment of your audience based on their location, job, needs, etc. and try to predict their preferences as you create content for a landing page.
A more sophisticated approach is to adopt software that collects customers' data and uses it to generate dynamic product offerings, discounts, and promotions. Amazon manages to keep its churn rate at less than 10% by using an automated algorithm.
Finally, for customers who are at a higher risk of churn, consider using a CRM system that lets a support agent see the entire conversation and purchase history with a client. That way, they can say, "Oh, I see you tried this before. Let's go with another option, then." This approach offers the highest possible personalization.
5. Give customers freedom to subscribe or unsubscribe
According to Ask Your Target Market, 46% of consumers report getting occasional newsletters that they didn't subscribe for, and 24% of respondents say they always unsubscribe from them.
Consumers enjoy freedom, and that pertains to receiving emails and website notifications about subscribing to messages and emails. If someone has opted in to receive your emails, they likely also want to be able to opt out easily and without guilt.
If you have someone on your email list who didn't sign up, and they can't unsubscribe, you'll have three problems to deal with:
First, people will likely mark your email as spam, and if enough users do that, your IP address will end up blocked. Your reputation might also take a hit, especially if you get fined for sending unsolicited information.
Second, you'll probably never get those who unsubscribe to buy anything from you in the future.
Third, you'll end up with an email list packed with people who aren't interested in your offerings.
To avoid these issues, always offer an unsubscribe link in your emails and newsletters. You'll pare down your email list exclusively to customers who are genuinely interested in your products and services.
Another approach is to include a "pause" option that will remove a subscriber from your email list for a specific period, though keep in mind that this tactic can reduce subscribers.
6. Make customer support a priority
According to statistics, customers are four times more likely to switch to a competitor due to poor service than high prices or product-related issues. Therefore, quality customer support is a must for a landing page too. Even more so, a landing page provides the first impression by which users evaluate your brand. Providing an instant response to a support-related question is pivotal.
To connect with visitors faster and persuade them to convert, you can use a live chat integration or a toll-free number. These are convenient ways to send personalized messages and serve several customers at a time with the help of automated tools.
A call-back option is a wise choice if your product or service needs more presentation than it's possible to convey in a few lines of text. Moreover, you can always rely on call tracking software to turn your leads into customers.
Another popular channel is social media, which is an excellent avenue for real-time responses. Besides, due to its informal nature, social media gave birth to a completely new phenomenon called conversational marketing that combines traditional customer support with proactive advertising.
7. Ensure your landing page is ad-relevant
The ad that brings a consumer to your landing page and the landing page itself should match each other perfectly. Do your research and create detailed buyer personas to build highly targeted landing pages for each segment of your audience.
Then, make sure the ad's message is consistent with its corresponding landing page. For example, if your PPC ad offers a discount, it should be front and center on the landing page.
The call to action is the primary converting item. Ensure your CTA directly relates to the message, and place it where a visitor is most likely to see it. A visitor must unmistakably understand what you expect them to do.
People may come across your landing pages several times as they tweak their search queries. Having the same content on different landing pages can be confusing, and Google generally frowns upon it. So, ensure all your pages provide unique and valuable content.
Find out where you're falling behind
Customer churn can happen to any company. Pay attention to when and why your customers leave, since it's the first sign something is going wrong. It's essential to react promptly to changes in your customer churn rate and analyze the possible factors driving clients away.
No marketing campaign is perfect, and you'll keep getting some "wrong" customers as you go. However, focus on the changes in the numbers of lost customers.
Don't neglect to reach out to your customers asking them to rate your services. You might follow up with a thank you text message, an email, or even a phone call. Only by making an effort to learn more about your audience's needs can you come up with an effective strategy to combat churn.