Big Tree is a rapidly growing digital marketing agency in Fairfield, Iowa, with a portfolio of world-class clients that belies our small-town roots. Since Big Tree's founding partners, David Sinton and Ti Liptak, started working together in 2015, they've grown the agency's staff headcount by a factor of 9x. Both partners attribute this directly to the high levels of growth they've achieved for Big Tree's clients.
Growing the agency to that degree is something we are proud of, but what might surprise you is how we grew during that time. While traditional digital marketing agencies often grow using paid ads to generate awareness, attending events to meet prospects, and through channel partners and referrals, we have chosen not to invest resources in marketing Big Tree.
It may seem odd that a marketing agency would decline to market itself, but we believe that putting all of our efforts toward generating the best results for clients is a superior strategy for long-term agency growth.
This article details the three primary methods to Big Tree's success:
How we developed the digital marketing strategies that lead to clients' high levels of success
How we implement these strategies for clients
How we approach the growth opportunities that naturally arise from client success
The pitch that started it all
It all started at the gym, believe it or not. In 2015, David started working out at the CrossFit gym that Ti owns with his wife. As they worked out together, they began to brainstorm how they could collaborate together.
Back then, David was leading the Big Tree Marketing team by himself and the agency was seeing a lot of success as a traditional search and PPC optimization agency. Ti was working for a startup, refining his approach to CRO, and using A/B testing to increase revenue per visitor.
The pitch
As Ti and David continued to chat, they wondered, what would happen if they combined their expertise in integrating search and ad optimization with conversion optimization? They decided to pitch Big Tree's biggest client at the time, an online luxury outerwear retailer, to combine marketing messaging with website experience to grow its revenue per visitor.
Ti believed that this approach of creating and optimizing a consistent customer experience from ads to post-click could grow revenue per visitor by 20%. But David worried that this number was too high and unrealistic. He cautioned Ti not to promise their client more than 5 to 10% growth.
The result
They pitched the idea and got a one-year contract for CRO with a performance bonus if they could grow revenue per visitor more than 10%.
Year 1: Big Tree improved revenue per visitor for the client by 23%, outperforming both David's cautious estimate and Ti's more optimistic prediction.
Year 2: Big Tree increased revenue per visitor for the client by 48% year over year.
The second-year results were even more profound, and a new incarnation of Big Tree was born, with Ti and David as co-founders. That original client continues to work with the agency to this day.
The test results proved that our customer experience-centered approach to CRO made it possible for our client to dominate its market because it generated more profit per dollar spent. This case study was not an anomaly either because we've been able to replicate consistent results like this for all clients.
The Big Tree approach to digital marketing
Big Tree's ability to provide the highest quality results is directly tied to our data-driven marketing strategies. There are five main components to our approach to achieving client success:
Prioritize data over opinions
Understand the client's goals and business
Measure and optimize the customer journey
Execute ideas rapidly
Always look for ways to improve
Gathering and acting on the best possible data underpins every step of the process when working with a client. We start by making sure that we truly understand their business and what they hope to achieve. We aim to put ourselves in the shoes of the prospect while understanding the issues the business is trying to solve and what's feasible for them today.
We begin this process by interviewing the executive team and walking through the sales process, testing the product, and doing market research. We gather data from sources such as email marketing dashboards, Snowplow Analytics, and Facebook Ads dashboards, among others.
Next, we correlate that with online opportunity and competitive analysis research. Finally, we rapidly execute solutions that will fill the biggest gaps in performance. And we continually strive to improve our strategies and without that five-step process firmly established, we wouldn't be able to grow.
Turning client success into agency growth
Client success has organically led to larger contracts with existing clients, who signed up for expanded services and trusted us with more of their budget based on that success. It has also served as a platform for acquiring new clients without any additional efforts to market ourselves. With many opportunities to expand our portfolio by signing new clients and more work for existing clients, our success relies more on our approach to growth rather than just continually adding more clients and team members.
With client success as the biggest driver of Big Tree's growth, our number one priority is continuing to deliver the best results to all clients. Big Tree has been able to achieve this by following these five principles.
1. Stay agile
Digital marketing is a fast-changing ecosystem, and the biggest opportunities for clients shift rapidly.
At times we've been hired to take one approach, but our research leads us down a different path where we discover different, bigger opportunities for clients. Since Big Tree has developed small teams of cross-trained, self-sufficient, digital marketing experts, we can quickly pivot and produce results, even if they weren't part of the original proposal.
Example: Glacier National Park Conservancy
Glacier National Park Conservancy hired Big Tree to grow its email list by optimizing its website and email capture forms. During the research, we discovered the biggest opportunity was to grow the Conservancy's email list using gated Wi-Fi access within the park. Our team worked with them to install and measure this and build a custom email nurture series for park visitors who provided their email address: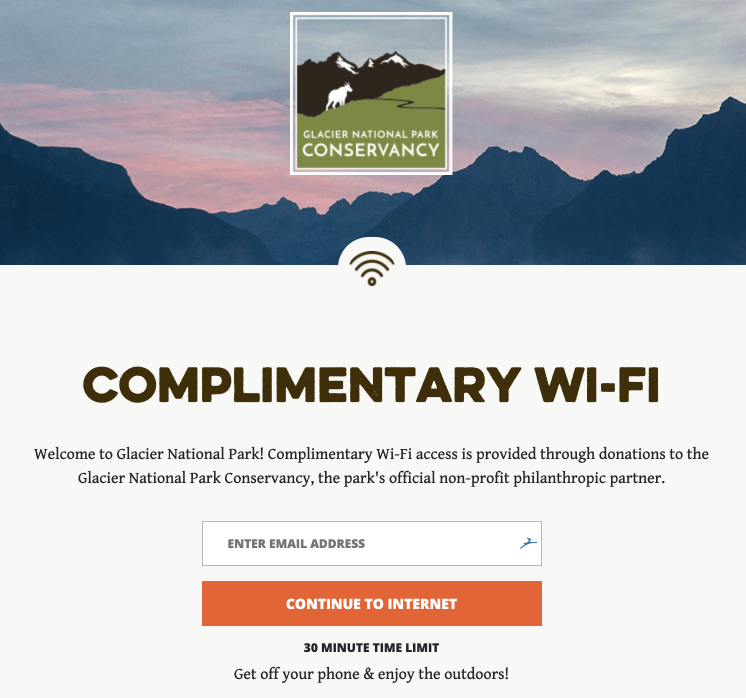 From this landing page, BigTree is capturing hundreds of new emails each day that get pushed to the lead nurture flow. The data shows new users are interacting with the educational content being sent, showing an interest in donor projects, and visiting the online store.
2. Don't grow too fast
Taking on more work than you can handle leads to lower quality work and mediocre client results. Since agencies came into existence, there are countless stories of agencies wanting to grow fast and bring on more clients and projects.
At Big Tree Marketing, though, we take a more practical approach. Instead of having the mentality to "grow, grow, grow," we only accept contracts our team knows we can efficiently deliver on. This enables us to do an outstanding job for clients and smartly grow our portfolio. That has been our strategy since day one, and we don't intend to change that philosophy.
3. Build a strong team
Disciplined project and task management combined with a strong team, has helped us work more efficiently and take on more work without increasing the staff size at the same rate.
The myriad of new technology requires human intelligence to pull all the pieces together. Delivering successful client results requires team members to have natural inquisitiveness, enjoy problem-solving, the flexibility to fill multiple roles, and a dedication to getting the job done.
Our strategy is to recruit people who are rock stars in their particular areas, whether that's paid search marketing, social advertising, conversion rate optimization, web design, or software development, who are also capable of understanding the big picture.
4. Focus relentlessly on client success
Everything we do is motivated by one goal — delivering great results for Big Tree's clients. At the end of the quarter or year, there must be a tangible, direct correlation between our work and an increase in the client's performance.
Our data-driven approach, the creativity of our expert team (e.g., Glacier National Park Conservancy), and never taking results for granted make it possible to deliver more and greater success for our clients every time.
5. Good results speak for themselves
As an agency, we're not focused on marketing ourselves in the traditional sense. By delivering outstanding results to existing clients we've driven all the growth we can handle almost entirely by word of mouth.
Planning for future growth
Co-founders David and Ti believe we're just getting started at growing the agency. Our current focus is on expanding our team to meet the new client growth that's in the pipeline while continuing to deliver the high-quality work that fuels that growth. In doing so, our goal is to become a 150-person agency within the next five years.
We love our work and are fueled by the success we generate for clients. It's been an amazing journey and we're thrilled to support great businesses in their mission. Sign up for an Instapage Enterprise demo here.
About the author
Sarah Kingsbury is a technical content producer for Big Tree, where she writes and edits email campaigns, landing pages, press releases, and more. In her 15-plus years in the publishing industry, Sarah has done everything from writing and editing feature articles, newsletters, and educational content to helping online publications develop successful SEO strategies to grow traffic and convert readers to paying subscribers.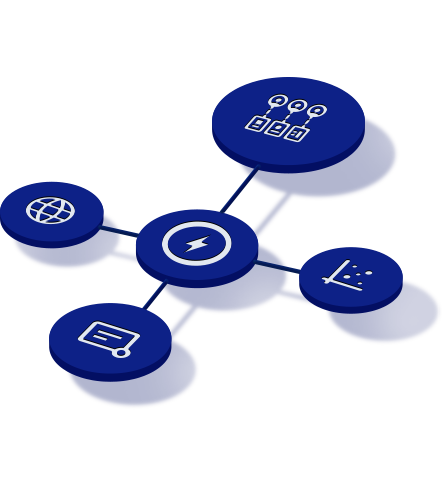 See the Instapage Enterprise Plan in Action.
Demo includes AdMap™, Personalization, AMP,
Global Blocks, heatmaps & more.