Native ads are advertiser's new star student. They're engaging, nondisruptive, and don't blend into the background. They're standing out from the crowd because they work.
A recent report from MediaRadar shows that old-style ad formats like display and banner ads aren't getting the attention and results they once did. In fact, 80% of Americans use at least one ad-blocking method.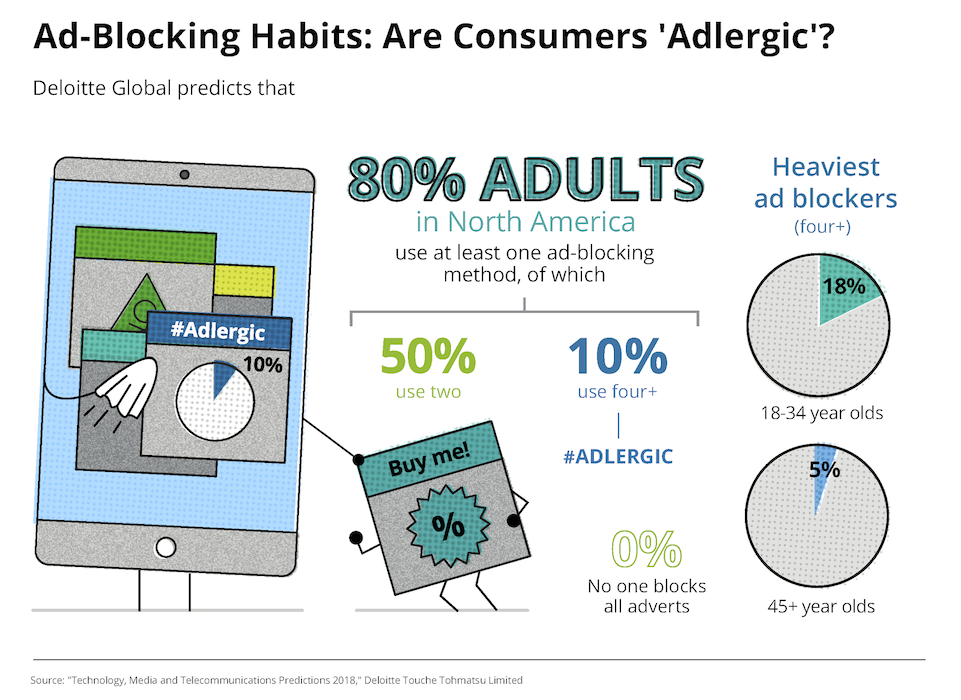 In contrast, most people see native ads as more trustworthy and engaging. And they're also proven to result in more clicks and increased sales compared with other ad formats.
One-third of millennials have purchased from a brand after seeing a sponsored post. (Collective Bias)
Native display ads produce a CTR 8.8X compared to typical display ads. (eMarketer)
Here's the breakdown by vertical, as found in Appnexus' white paper on 2018 digital advertising stats: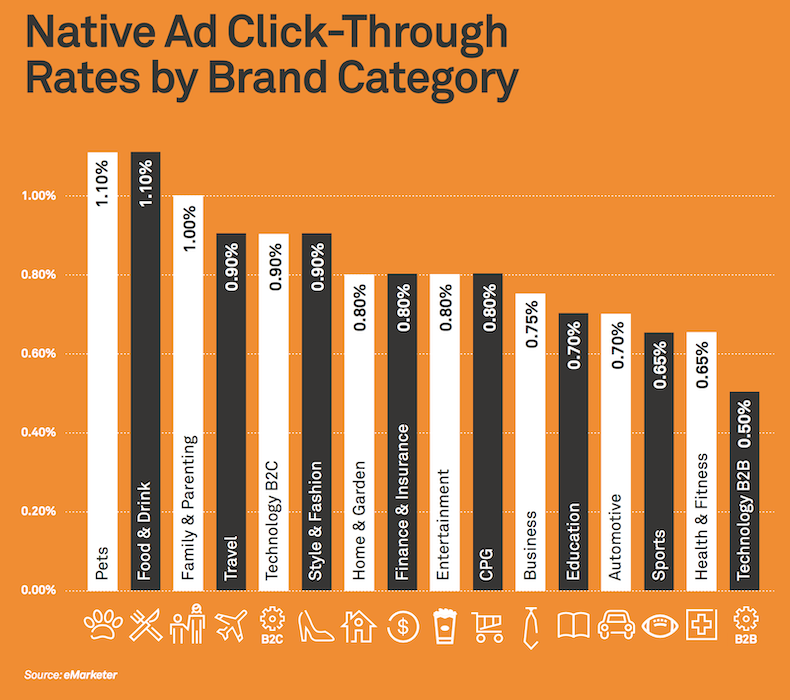 In today's article, we'll show you how to get started with native advertising, and how to manage a native ad campaign from start to finish.
What is native advertising?
Before we get to the campaigns, let's clear up the difference between native advertising and other kinds of advertising to answer the question, what are native ads?
One main difference is how they look. As the Native Advertising Institute's definition says:
Native advertising is paid advertising where the ad matches the form, feel and function of the content of the media on which it appears.
Compare that with some social and PPC ads, which are clearly different from the content people are consuming. Of course, you can use native ads on those platforms too, in which case they'll look like everything else on the page.
Native advertising can be purchased through a partner that has direct relationships with a publisher, social platform or search engine or programmatically.
Native advertising examples
These examples of native advertising span search, social and the open web.
Example 1: the open web
The banner ads outlined in red on the CBS Sports article do not match the form, feel and function of the content on which they appear. They have an entirely different design and stand out as branded (Showtime and Rheem):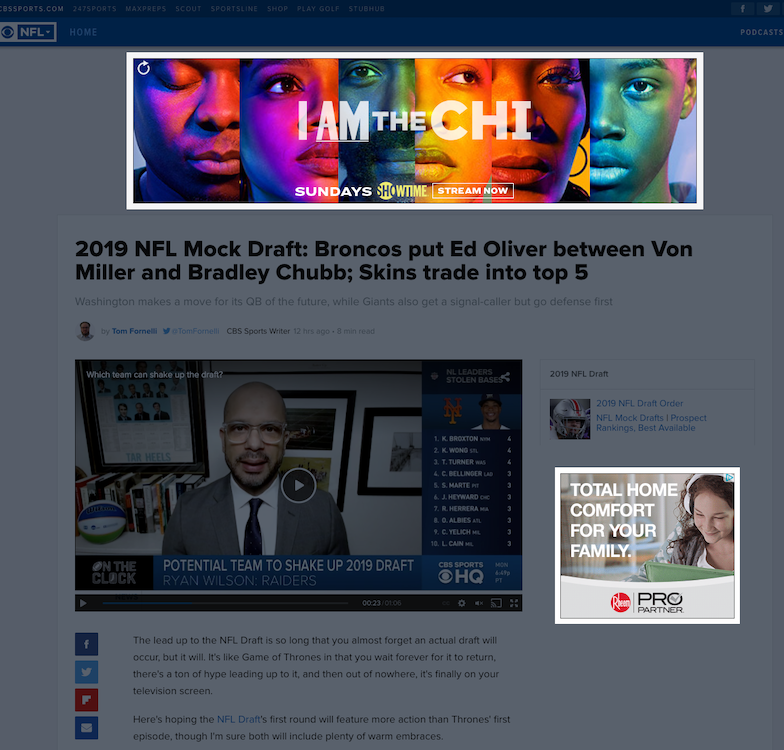 Scroll to the bottom of the page, however, and you'll see recommendations on what to read next — some of which are sponsored content and videos promoted by brands but match the form, feel and function of the site.
Followed directly by a CBS Sports editorial piece of content is a recommended article from Honey. It's incorporation into the site makes it native:

Another difference is the viewing experience for anyone seeing the ads. Regular ads can be disruptive, whereas native ads are a seamless part of online or mobile content consumption.
Native advertising vs. sponsored content and content marketing
As an aside, let's clear up the difference between these three terms. Native advertising is a way for marketers to distribute content. Sponsored content is an ad format that they can use to distribute their content.
Content marketing is a marketing strategy that encompasses everything that happens with branded content.
The Content Marketing Institute explains it best:
Content marketing is a strategic marketing approach focused on creating and distributing valuable, relevant, and consistent content to attract and retain a clearly defined audience -- and, ultimately, to drive profitable customer action.
Example 2: social media
Ads in your Twitter feed don't disrupt your experience because they look like regular tweets, except for the fact they're "promoted."
The "Promoted" label underneath the New York Times article identifies this as an ad, but the nondisruptive experience for the user discovering it makes the person more likely to engage: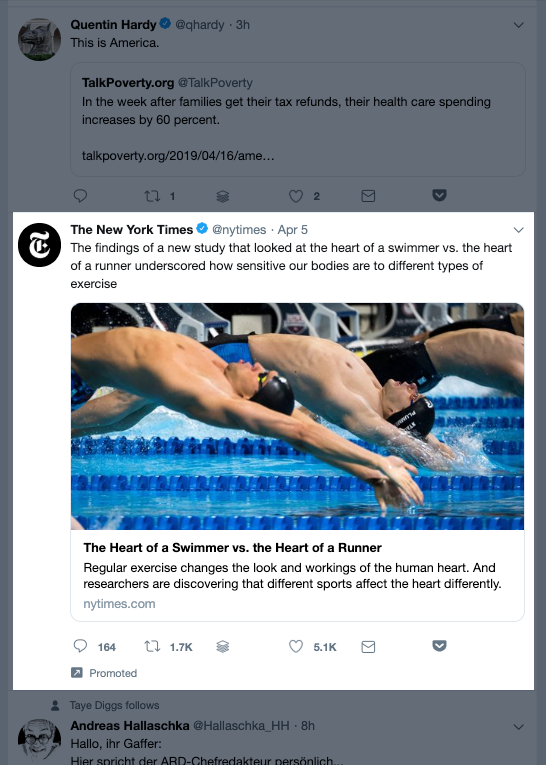 A third difference is how you use the various types of advertising. Many companies use search and social ads to drive traffic to their website or post-click landing pages.
Example 3: search
Search sites also run native ads. Google native ads, Yahoo native ads, Bing native ads and others often look similar. Here's an example from Google: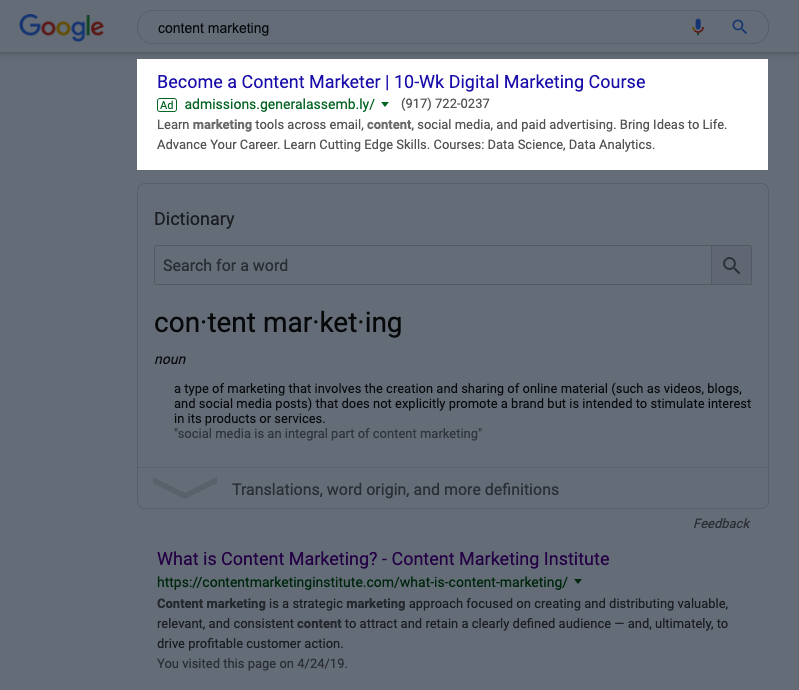 This article will explore best practices based on millions of ads running on the open web.
Native ads there are often used to get more attention from people who are already on publisher sites. Your association with their brand, as well as a direct link to your own content helps drive traffic to your site (see the CBS Sports example above). This can increase brand awareness and online authority.
When building your first native advertising campaign, it's essential to keep this in mind. The goal is never to make a user feel fooled or tricked into getting what they think is a branded article and instead landing on unrelated content.
Aim for genuine content that delights consumers. Let's dive in, start to finish.
The steps to managing a native advertising campaign
1. Nail your native advertising strategy
If you're just getting started with native advertising strategy, here's what you need to do.
First, determine your goals. These are usually related to either branding or performance.
Branding goals are about getting more brand attention for your brand. Measure success by tracking metrics like page views, time spent on page, video completion rates, viewability, engagement, and brand uplift.
This article discusses how to build a sponsored content campaign in depth, but native video is another great format that can help you hit your branding goals.
Performance goals are more about the bottom line, and you'll pay attention to conversions like sales, form fills for lead generation, and subscriptions to measure these.
Once you determine your goals, define your audience and determine where you can meet them online.
Next, choose the publishers and the audiences you want to reach.
Do this in real time to determine which publisher sites work best for your particular brand. Native advertising audiences are different than search and social audiences.
Search audiences know they want to find you. Social audiences know they like other brands like you. Native audiences have likely never seen you before, and therefore you may see different audience behavior than other channels. Not to mention, they're in consumption mode and are ready to discover something new: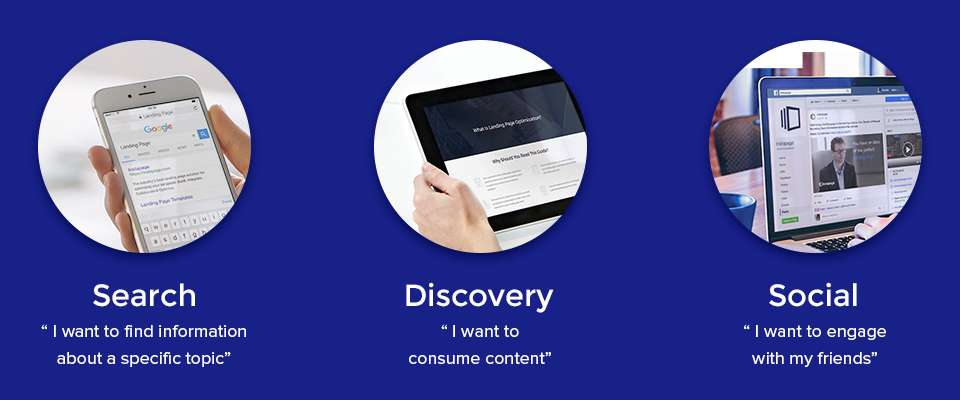 Here's how this boils down to a site targeting strategy:
If you're just getting started, you'll want minimal targeting — possibly no targeting at all. This allows you an unbiased view of who's responding to your ads.
Once you've collected a good amount of data for your needs, you can narrow down audience segments and sites that are performing best for you.
For publishers, you'll be looking at audience demographics and visitor numbers to determine if a particular site is a good fit for your native ads. And you may also want to filter by geolocation (country), device, and more.
To define your audience, keep an eye out for the trends you know are effective as well as new audience trends you might not have anticipated.
Third, choose your content.
First impressions matter a lot, so take some time selecting content.
Decide on the URLs you want to promote, and the titles and thumbnails you'll use to promote them.
The title and thumbnail are vital to persuade people to click your ad, so copy and design must capture attention. More tips on this later.
The secret to good native advertising content is to keep it genuine and the audience will likely respond in your favor.
Finally, set your ad campaign budget.
When you're starting, aim for a higher CPC. This gives you more data you can use to refine and optimize budgets as your campaign progresses. For your first campaign, daily check-ins help you monitor what's performing best.
2. Select the right content for your native campaigns
When you're choosing content for native campaigns, you've got to think like a reader. Instead of focusing on what you most want to sell, concentrate on what will deliver genuine value to readers.
Your content should be informative and relevant to their needs. So, if you're selling a new elliptical machine, for example, consider an article that includes interesting tips that help people get more from their exercise routine.
When choosing content, start with your goals, and think about an area in the funnel on which you want to focus.
Top of the funnel goals like brand awareness and brand uplift should aim to educate and delight someone who has never heard of your brand before. That same elliptical brand might run editorial articles such as:
10 Steps to Calf Muscles That Climb Mountains
Healthy Tricks That Power You Up For Your Next Workout
Leg Routines That Experts Swear By
Middle of the funnel goals should qualify traffic, and include things like traffic, engagement and possibly form completions depending on the campaign. Sticking with our elliptical example, think blog articles videos and ebooks like:
5 Reasons the Elliptical Machine is Easier on Your Body Than the Treadmill
These Three Machines are Necessary to Complete a Home Gym
How to Get a Full Body Workout on an Elliptical in 20 Minutes
Bottom of the funnel goals should qualify traffic for a sale, and show them a product page or equivalent information:
If You're Building a Home Gym, Don't Leave this Machine Out
This Elliptical Machine is Expert Tested and 20% Off
The Top Elliptical Machine Recommended by 50 Experts
It's important to acknowledge that your native ad is branded content. If you try to hide it from readers, they'll feel conned. That's a quick way to sink your campaign.
3. Build native ad creatives that win the click
As mentioned earlier, titles and thumbnails mean everything for native ad campaigns.
Let's start with the image since this is what captures the reader's eye. Recent Taboola research shows trends beginning to shift from what you'd expect. The best thumbnail images for native ads:
Use people (people are wired to react to images of other people)
Incorporating men versus women improves CTR
Test black and white images for impact
Are the correct size (we recommend 1000 px wide and 600 px deep on Taboola)



The latest trends show that image close-ups work well and images without text have a 53% higher click-through rate (CTR) than those with text.
For native ad headlines, remember to:
Format your headline in title case
Keep them short at 30-45 characters and avoid going over 60 characters
Use headlines as a chance to call out to the audience or specify which product you're selling to get more attention from the right people
Put your main, or most appealing, point at the start of the headline
Evoke curiosity if you can
The Taboola trends research highlights image, video, keyword examples, a title analyzer and more that have shown to boost CTRs. Naturally, the trends change in real time but you can consult the research for recommendations in your campaigns.
How to adapt your social campaign for native ads
If you're already running social ads, you might have a campaign you want to shift over to native ads. That's easy to do, and here's how.
First, check the Facebook Ad Manager's Placement report to see CPC reports on your desktop and mobile campaigns. The ones with the lowest CPC are a good fit for native ads.
Next, target your ads as described earlier, and refine by device type and geolocation. You can take this a step further on mobile and refine by operating system.
When setting your budget, A/B test your campaign. Run one version at the same CPC as your original social campaign, and another at half the CPC.
When you have the results, you can continue to optimize your best performing campaign. For creatives, remember to use large images, and to target your audience with the headline, as described earlier.
The importance of testing
Once your campaigns are running, it's important to ensure that your creatives deliver on the goals you set at the beginning. The way to figure that out is to A/B test different combinations of headlines and images until you get the best performing ad.
Traditional online advertising is still good practice with PPC, display, and social, but more brands are adopting native advertising into their overall campaigns with great success. Try it today and experiment. You just might be surprised at the results.
To start your first native ad campaign, go here.
About the author
Megan Morreale is Sr. Content Marketing Manager at Taboola. She's knowledgeable about native advertising, martech, adtech, the latest horror movies and the best kayaking spots in New Jersey. You can find her online writing, tweeting or crunching a set of data. Tweet her @MeganRoseM, or follow her at www.meganmorreale.com/journal.