As COVID-19 continues to dominate the news cycle, you've likely noticed that many companies around the world are giving back to those in need. Contributions ranging from financial donations, medical supplies, reallocating resources to help fight the virus, and more.
You can see an extensive list of companies and their contributions during the pandemic here, some of which include:
Let's see how Instapage customers are giving back during this unprecedented time.
Beekeeper: Crisis-Ready Kit
While many companies swiftly implemented work from home policies, the solution for organizations with frontline workers wasn't as straightforward. Being a SaaS platform for frontline employees, the core industries that Beekeeper serves such as manufacturing, retail, and hospitality have been severely impacted by COVID-19. Real-time, reliable internal communication has quickly become a must-have for most businesses.
As companies struggled to adapt and communicate with their employees, Beekeeper's users became exceptionally active on the platform. One by one, the company watched its customers connect with their employees as COVID-19 continued to impact their businesses. After several Zoom meetings and countless cups of coffee, Beekeeper introduced a new offering to help companies stay connected during the crisis.
Now, companies get free access to a Crisis-Ready Kit for those that need immediate crisis communication support during COVID-19. The kit includes a crisis communication checklist, 48-hour rollout, and free trial of Beekeeper featuring their newly released coronavirus package which includes their suite of operational features and a built-in FAQ chatbot: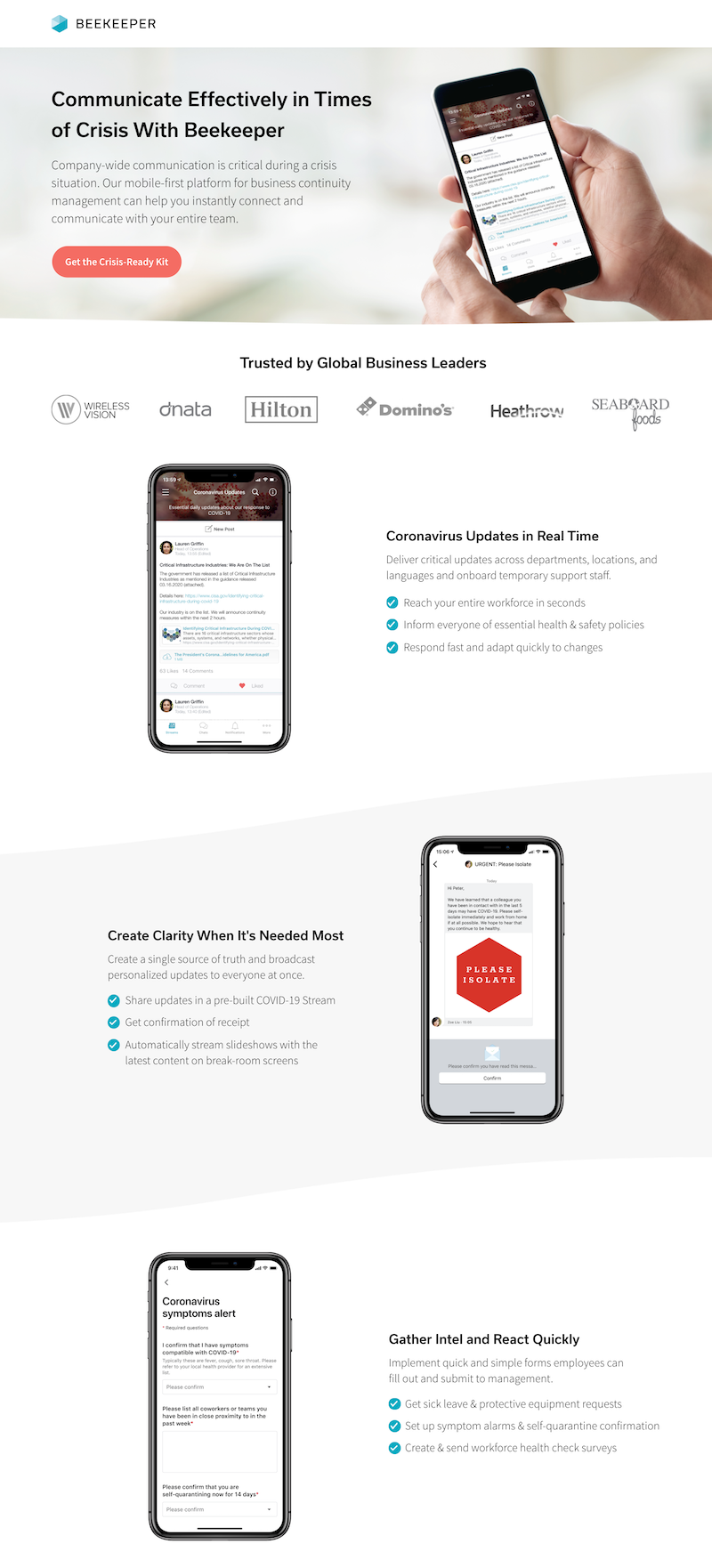 Cris Grossmann, CEO and Co-Founder of Beekeeper, adds:
Companies around the world are under more pressure than ever before to keep their supply chains and business operations running under these extenuating circumstances created by the coronavirus pandemic. This Crisis-Ready Kit will help businesses reach their employees with consistent and accurate information fast, rather than waiting for critical information to filter down through general managers and team leads. Not only is this access to information critical to keeping the organization functioning — but it's also a moral duty to employees, who have indicated that they are likely to look to their employers over their governments for information about the coronavirus.

Clear communication is one of the most effective safeguards against chaos, and the need for it is only growing. The company hopes that business leaders can now leverage the tools in the Crisis-Ready Kit to reach their employees and provide a space for connection during this time of social distancing.
e-Dantes: Free ebooks
Based in Paris, e-Dantès is an aggregator of digital ebook in the U.S. whose job it is to work with publishers to get their books into the rights hands through the right reseller.
When the quarantine hit in France, they had to act quickly since all bookstores were closing for safety precautions. From their experience, they knew that digital ebooks sales would rise during this period, but that not everyone would read digitally. Meanwhile, publishers were thinking of making many books free for a period of time. e-Dantes advised them not to do that. Instead, e-Dantes selected a quality amount of books to send to new readers.
Alexandre Levasseur and his team bought the domain confinementlecture.com (translation: reading quarantine) and designed a post-click landing page to aggregate the large influx of readers. Within 48 hours, the e-Dantes team had all the confirmations from publishers and were ready to launch with a unique free service: 5 ebooks every 24 hours for 5 days with a simple email registration: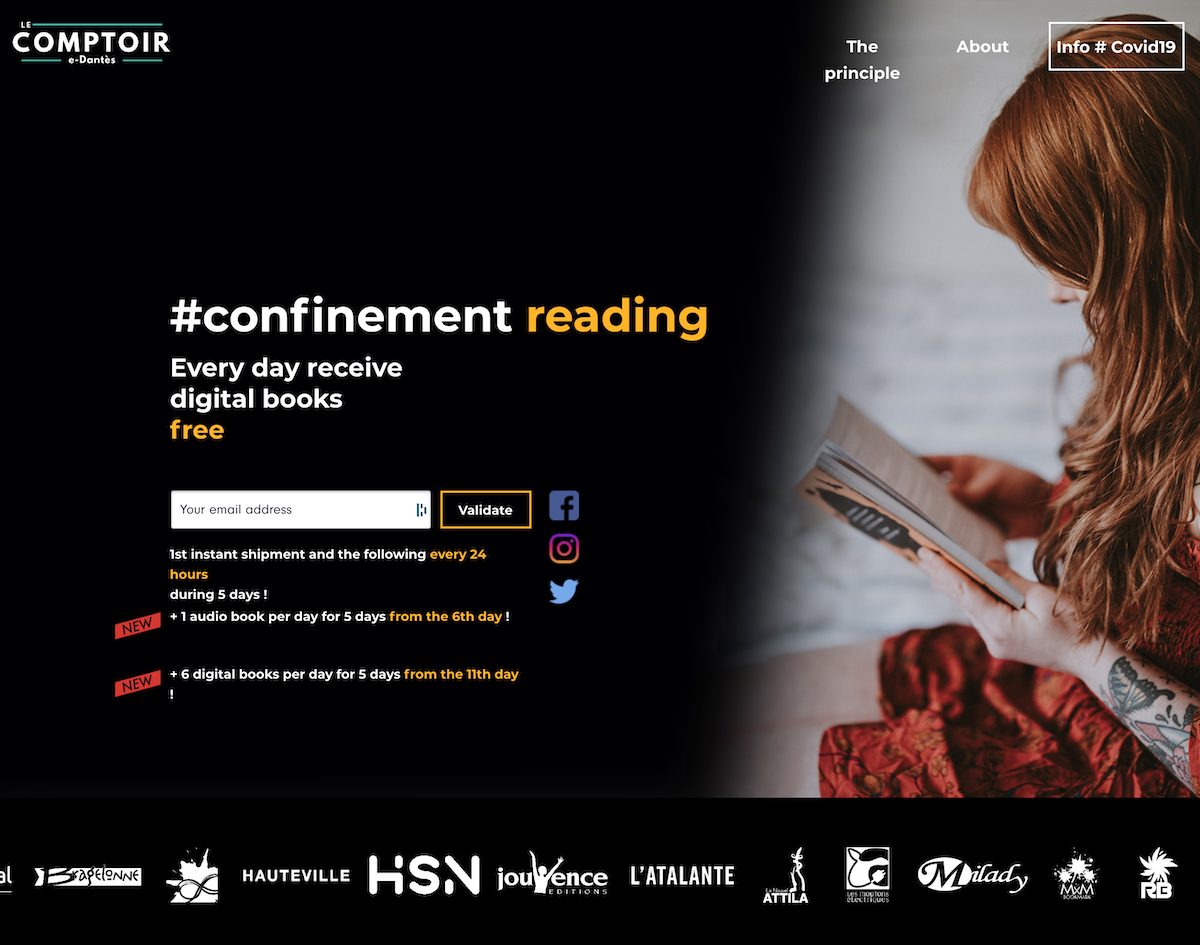 The campaign launched late on a Friday afternoon, and by the end of the day, it already hit 15,000 conversions. By the end of Saturday, 30,000 conversions. The campaign was accelerating and spreading all over the social networks. Word-of-mouth was all over the place with newspapers calling them for details.
Head of Marketing & R&D Director, Alexandre Levasseur, gives more context:
Since the publish date, we've totaled 70k people registered and are receiving countless messages from many people thanking us for the free books and helping them discover great stories by fantastic authors.

We're not superheroes. Nurses, doctors, and everyone fighting this threat are real heroes. We just thought of a way to help them and save lives. Staying home and reading, fighting together.
EZ Texting: Free messaging service
Daily health and safety updates about the crisis have become the norm, and EZ Texting recognized early on that this critical information needed to be distributed as quickly and efficiently as possible.
CEO Norman Happ, announced in a press release that their texting platform is offering all .edu and .gov email addresses free service, which includes 100,000 free outgoing text messages for 6 months after signup:
As new developments related to COVID-19 continue to unfold, it's imperative that schools and government organizations keep communities informed by sharing real-time information from national and worldwide health organizations... It's imperative to get timely updates from local schools and to feel confident that everything possible is being done to keep our communities safe.
The campaign is a huge success so far, and the EZ Texting team added the promotion to their homepage slider. Visit their page below and their guide to COVID-19 notifications):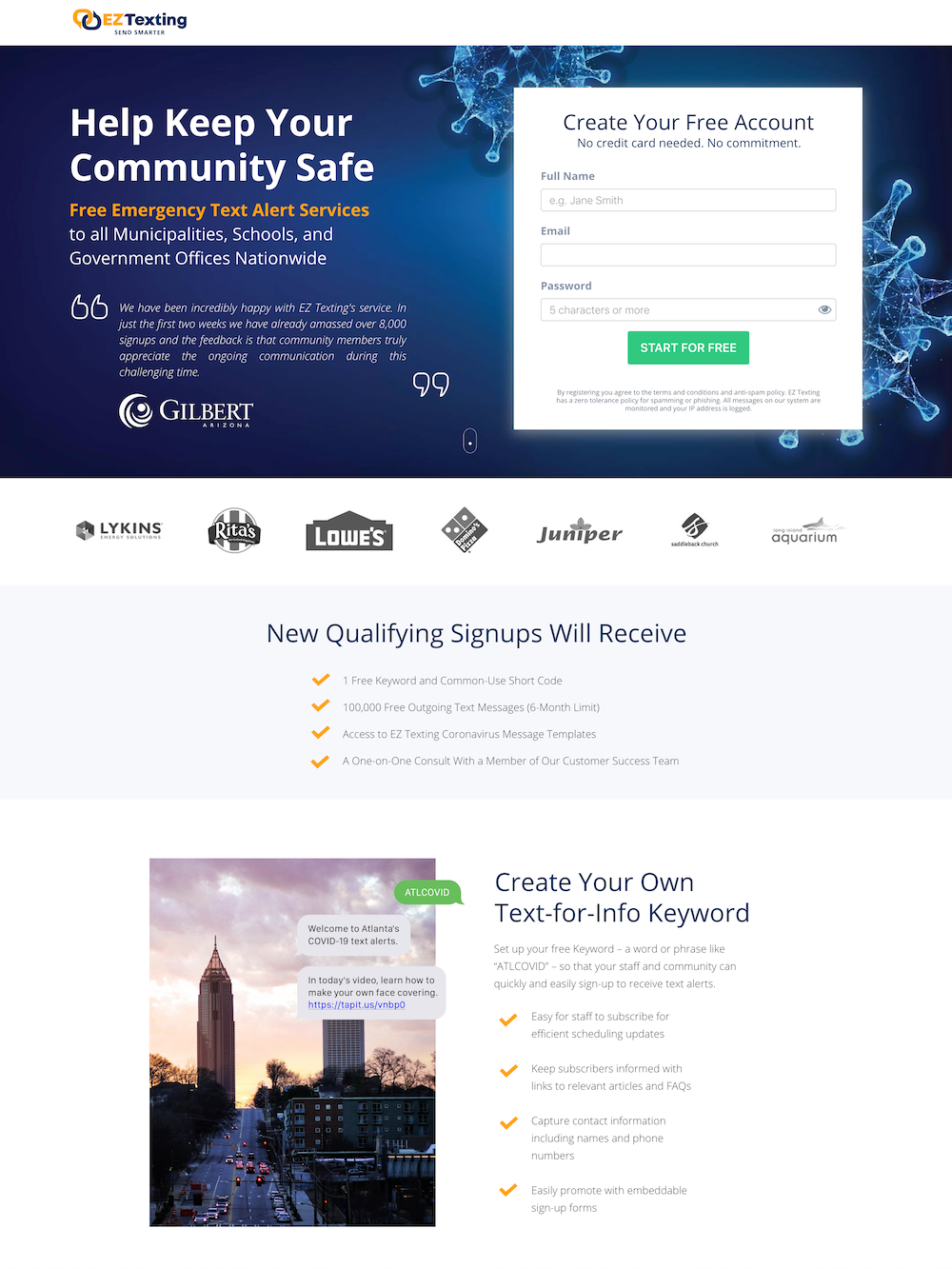 Favor Delivery: Essential food delivery for seniors
This popular on-demand delivery service out of Austin, TX allows customers to order from their favorite local restaurants. Due to the pandemic and their commitment to seniors, however, Favor partnered with Texas' leading grocery retailer, H-E-B. The initiative is a simple, affordable solution that offers contactless delivery of essential food and supplies to where seniors are safest — at home: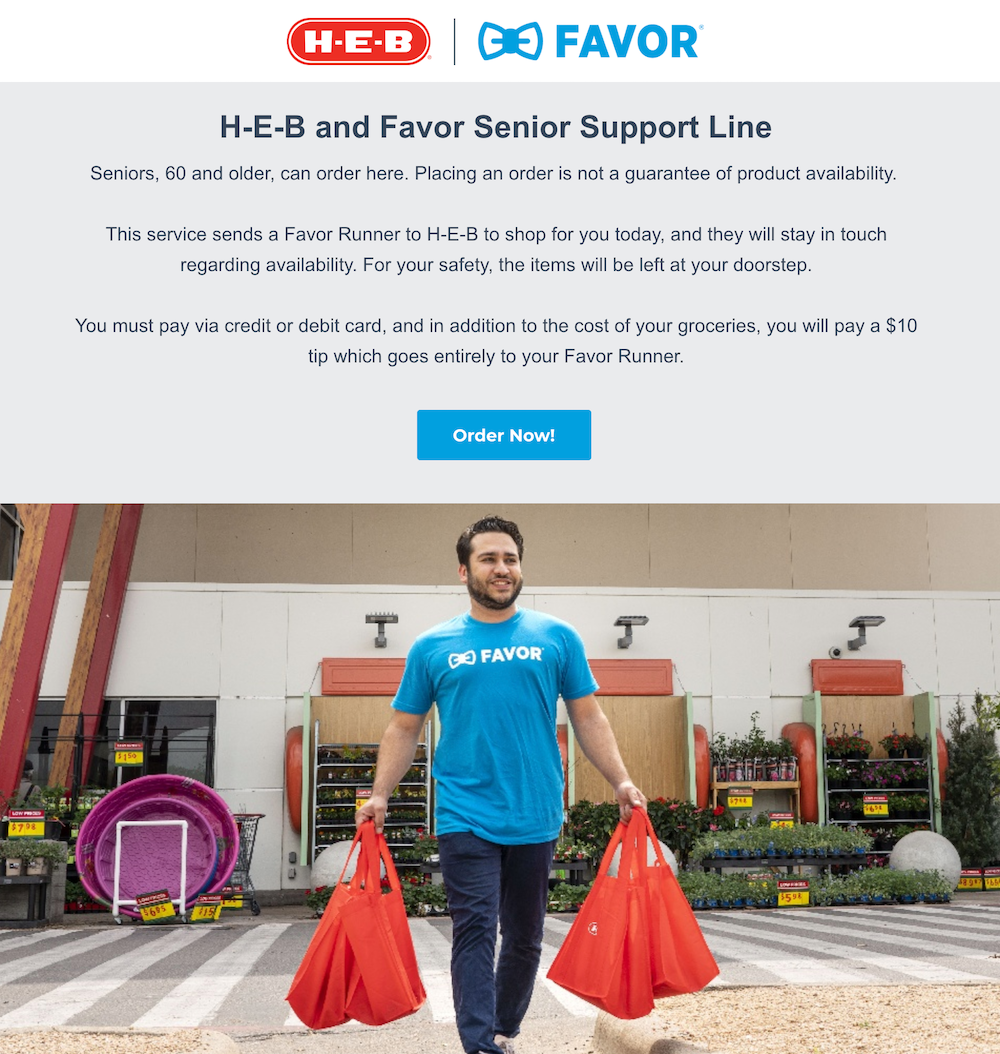 How the program works
From 11 a.m. to 7 p.m., seven days a week, seniors can place orders for groceries and essentials via Favor's Easy Ordering & Delivery website. This new online ordering system provides seniors with a simple step-by-step process for ordering contactless home delivery from their local H-E-B, Central Market, or Joe V's. Seniors can also place orders through a dedicated Senior Support phone line staffed with H-E-B and Favor volunteers to accept and process orders over the phone from 11 a.m. to 3 p.m., seven days a week. Seniors (60+) can access the support line by calling 1-833-397-0080.
Once an order has been placed, a Favor Runner will personally shop for the items and deliver them within a few hours. To promote social distancing and limit exposure, all orders will be dropped off at the customer's doorstep. A bonus of the program is that H-E-B and Favor waive all delivery and service fees for the first 30 days of the program. Instead, all orders will include a $10 tip, which goes entirely to the Favor Runner.
Martin Otto, Chief Operating Officer at H-E-B, explains:
There's no such thing as being too cautious with our seniors at this time. We heard from our customers loud and clear, and we're ready to offer an easy, convenient solution to serve seniors while keeping them safe. Together with Favor, H-E-B is committed to helping Texans get the products they need while slowing the spread of coronavirus in our communities.
For more details, seniors 60+ can order from H-E-B directly through the Easy Ordering & Delivery page.
Tide Cleaners: Free laundry & dry cleaning
There is a lot of uncertainty in the world and front-line responders are doing everything to keep us safe. They are on the front lines ensuring our wellbeing and fighting the pandemic, while at times many of their family's needs are not being taken care of.
Tide's hope is to make everyday chores like laundry as seamless as possible and lighten the load for those at the front lines during this time. That is why Tide Cleaners and the Tide Brand mobilized Tide Loads of Hope powered by Tide Cleaners to provide free laundry and dry cleaning services to the immediate Family of Front-line Responders including Medical (Paramedics, Doctors, Nurses, Hospital and Medical Staff, Medical Researchers), Police Officers, and Fire Fighters: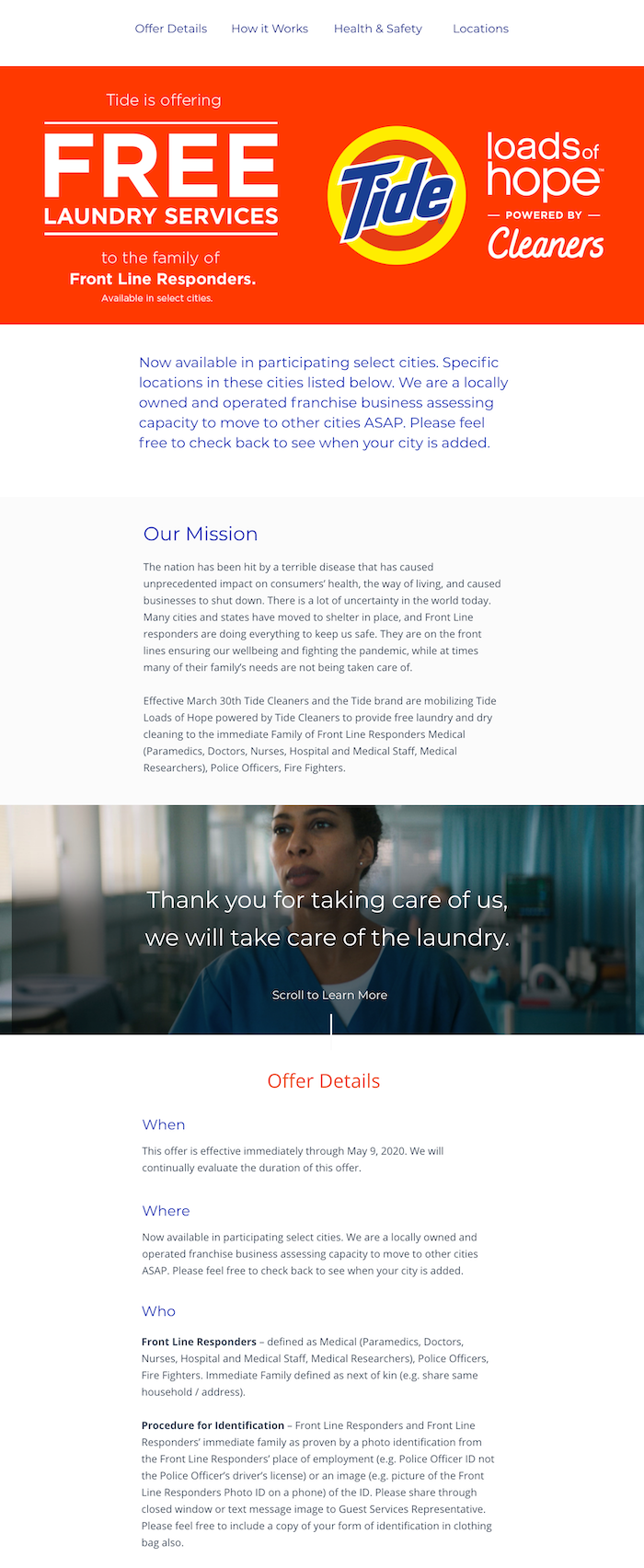 Additionally, Tide Cleaners is a locally owned and operated franchise business so they feel the effects of the COVID-19 outbreak, just like the local community. They continue to operate as an essential business during this time to serve their community's needs and help share the load of the front-line responders. Since the program began on March 30th, they have expanded the program to over 40 cities and continue to assess the program on how they can make the biggest impact in all communities.
As Michael Frey, Director of Marketing, APFI at Procter & Gamble, states:
We are inspired by the work first responders are doing across this country right now. But not just first responders – front-line responders as well. So, in addition to the police, fire, and EMT workers keeping our country safe right now, we are also inspired by all healthcare workers. Doctors, nurses, practitioners, and more and putting themselves at risk to keep our friends and family safe. And for those reasons and many others, this is why we're taking care of their laundry with Tide Loads of Hope powered by Tide Cleaners.

We have heard many stories from front-line responders about the countless hours and sacrifices they are making at home to help in the fight of this global pandemic. Many have been brought to tears in appreciation for the simple act of doing the laundry for their family. We could not be more proud to help them during this time. This is our way to say 'thank you' for all the sacrifices they are making and for ensuring the health and safety of our communities.
Conclusion
With the current global crisis, it's been wonderful to learn about companies from a variety of industries supporting their local communities and first responders.
Instapage is proud to be associated with so many great brands around the world, and we look forward to hearing more stories in the coming days and weeks ahead as the world unites in fighting the pandemic.