Using the right platform to create enterprise landing pages has a significant impact on your advertising conversions. Most landing page creators available today offer drag and drop builders or WYSIWYG editors, conversion-ready templates, and A/B testing capabilities.
However, these features are pretty basic for an enterprise company looking to create personalized post-click campaigns at scale. Enterprise companies require more than just the standard features from their chosen platform.
In this post, we'll give you 8 reasons why you shouldn't settle for just a landing page "builder" with basic functionality. We'll also detail how the Instapage solution is ideal for enterprise brands looking to increase advertising conversions.
1. You need personalized post-click pages
As a savvy digital advertiser, you understand the necessity to message and audience-match post-click landing pages for your ads. This means creating, personalizing, and optimizing post-click landing pages to every user who comes across the page.
However, most landing page builders don't offer this sophisticated functionality. More often than not, what you get is pages with dynamic replacement text in the guise of personalization.
Dynamic text replacement works for simple word changes like a particular location match. But, it's near impossible to match the context of a visitor's intentions with a simple keyword or location insertion.
To do this, you need robust context matching that requires an entirely new experience. This means that every post-click page should have different page layouts, different image backgrounds, and a different story narrative based on who's looking at the page.
Enter 1:1 ad-to-page personalization.
The Instapage Personalization solution helps you establish this context by enabling you to:
Create any number of unique page experiences for a post-click landing page
Attach experiences to specific audiences based on UTM parameters
Serve the right experience in real-time to the right audience
Automatically revert back to a default experience for audiences who are not attached to any experience
Add or delete experiences from a page in real-time
Create variations for a page experience to split test within a certain audience
Identify high-performing audiences by tracking metrics at audience level
When you create 1:1 ad-to-page personalized experiences with Instapage, you are able to connect every targeted ad with a relevant post-click page that perfectly matches the user's intent and keyword search.
2. You need faster load times and fewer bounces on mobile
Faster mobile load speeds provide a better user experience for mobile browsing. So, creating a positive, engaging post-click landing page on mobile is essential since the post-click page is where conversions happen.
If your enterprise landing pages load too slowly or create a disjointed experience from ad to post-click, visitors will bounce. To ensure your mobile pages load instantly you need AMP:
Instapage empowers you to create post-click landing pages using the AMP framework. With it, you can create AMP post-click landing pages directly from the Instapage builder, validate the page prior to publishing, A/B test the pages, and even publish the pages to WordPress, too.
3. You need responsive pages to look good everywhere
"Responsive pages" doesn't just mean pages are mobile-friendly. Aside from desktop and mobile, responsive refers to the browser each person uses. But beyond that, too many mobile devices exist where you can't spend time optimizing pages for every device type. You require pages look great automatically, regardless of the device, browser, or screen size.
Automatically delivering optimized experiences to everyone can be a real challenge. This task is even more cumbersome if your current builder requires you to create separate dedicated experiences for different devices and screen sizes.
Enter fully Responsive Page Experiences.
Instapage automatically scales page content and elements to match the screen size on which page experiences are viewed. This way, visitors always have consistent experiences optimized for their device and screen size without having to pan, zoom, or scroll.
Responsive Page Experiences are supported across all popular device types, sizes and resolutions, including popular smartphones, tablets, and desktop models. All new page experiences are fully responsive on popular devices across major web browsers, including Google Chrome, Firefox, and Safari.
4. You need more granular advertising metrics
Tracking PPC campaign performance at the top of the funnel can be easily achieved by the ad networks you use. But, attributing pipeline, revenue, and down-funnel conversions, to specific ad campaigns and CPC can be especially challenging.
Most landing page builders offer basic metrics such as conversion rate and conversions. Yet the attribution of bottom-of-the-funnel metrics, like revenue, to top-of-the-funnel data like campaign and cost, is either impossible to track, inaccurate, or can only be collected manually.
Not anymore with the Instapage Advertising Attribution solution.
By collating cost-per-visitor and cost-per-lead data for paid and organic traffic, you have full visibility into paid advertising attribution across the entire marketing and sales funnel. Plus, you get improved data filtering and customizability: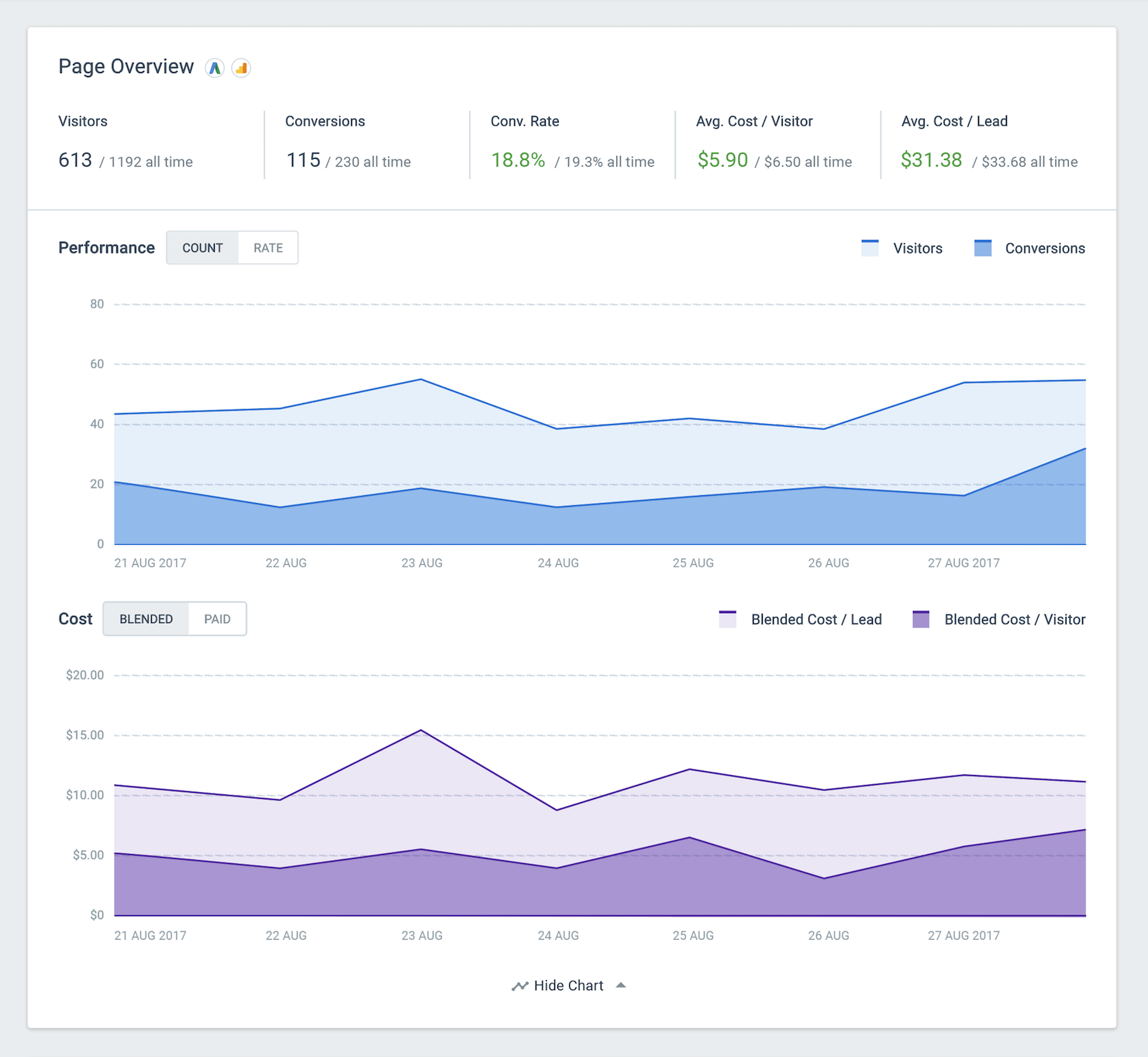 The Advertising Attribution Solution then passes lead metadata information to down-funnel systems like marketing automation and CRM. This allows enterprise companies to attribute top of funnel metrics like ad campaign, traffic source, cost per lead, post-click landing page variation, etc. to down-funnel goals like conversion, pipeline, and revenue.
Finally, post-click landing page variation information is passed to Google Analytics, to allow users to view detailed analytics for each of the variations.
5. You need to ensure all user information is secure
Ever since the GDPR took effect in May 2018, user's data privacy has been more of a global concern, hence you need to handle user's data security even more seriously. Plus, if your company operates in the medical, legal, or financial industries you have to uphold certain industry security standards, such as PCI-DSS and HIPAA laws.
Ensuring the platform you're using doesn't misuse lead information that's collected through them is a top priority.
Enter Lead Bypass feature.
The Instapage Lead Bypass feature lets enterprise customers store lead data with the destination endpoint of their choice without storing the information in Instapage servers. All information is transferred to a destination of the client's choosing (usually through a native CRM integration or the customer's own database by setting up a webhook).
The feature provides businesses that handle PII (Personally Identifiable Information) the flexibility to decide where their lead and user information is stored when regulations are involved.
6. You need to scale your post-click landing page production without friction
Having conversion-ready templates at your disposal is great; however, templates come with their restrictions. It is possible to create multiple post-click landing pages from a few templates, but, you're starting from scratch each time.
As a result, creating post-click pages at scale is a cumbersome, time-consuming task. It's not a realistic solution when every ad you have deserves a unique experience. For hundreds, thousands of pages, it gets overwhelming in a hurry.
Enter Instablocks™.
Instablocks is a revolutionary way to scale your landing page production not offered by any other vendor in the market. You can create page blocks that can be used as building blocks to quickly and easily create a high volume of post-click landing pages.
This enables enterprise companies to create matching post-click landing pages for targeted ads just as quickly as they create ads. By creating and saving custom blocks to reuse across landing pages, or leverage out-of-the-box Instablock Templates, you can quickly scale hundreds of post-click landing pages by cutting duplication of creative work.
7. You need to update multiple pages instantly
Updating landing pages can be very time-consuming and often involves a lot of repetitive manual work. Imagine having to update dozens, hundreds, thousands of pages because you:
changed your company logo or brand colors
have updated product screenshots
want to highlight a new customer testimonial
determine that shorter lead capture forms convert best
… or any number of other changes that effect multiple pages.
With the power of Global Blocks, you can update all necessary pages with one click:
Global Blocks allows Instapage enterprise customers to create, manage, and update global brand templates at scale. Whether it's a copy or image block, or anything else, this unique feature allows you to personalize, test, optimize, and seamlessly update branded content to continually increase conversions.
8. You need to ensure your chosen platform has minimal downtime
Your team has invested a lot of time connecting segmenting ads to personalized post-click pages that you can't afford to have your pages go down. You have too much money on the line. Your campaigns depend on having a reliable platform. To guarantee our reliability, Instapage Enterprise customers receive a Service Level Agreement.
For scalability, we utilize Kubernetes clusters. Our dockerized microservices scales on-demand to provide the strongest performance possible. To make sure we can handle any spikes in traffic, we keep 10x the servers capacity at all times.
Also, the landing page infrastructure Instapage uses is exclusive to the microservice, which means no other services that Instapage uses can access the servers of the pages. As a result, we guarantee 99.9% uptime for all customers. Furthermore, all pages are cached with Verizon CDN for image/video hosting and Google Image Compression algorithms to optimize page load speeds.
Select a platform best suited for enterprise
Templates, drag and drop builders, WYSIWYG editors, and A/B testing are par for the course. For enterprise companies, you deserve access to a full suite of capabilities to optimize and personalize all your advertising campaigns.
Now that you've seen above what's possible with a robust post-click landing page solution, ask yourself…
Does my current builder allow me all of that functionality?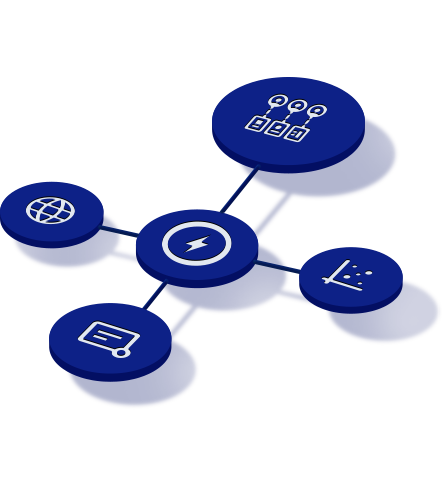 See the Instapage Enterprise Plan in Action.
Demo includes AdMap™, Personalization, AMP,
Global Blocks, heatmaps & more.