Ecommerce offers are everywhere and your target customer base is likely barraged by emails each day. Your job is to capture their attention immediately while they scan their inbox. Personalized ecommerce recommendation quizzes may be the strategy you consider to do just that.
eConsultancy research shows that 44% of customers are likely to become repeat buyers after a personalized shopping experience. What's more, is that 40% might give in to upselling due to personalization.
So, what's better than shopping when you know exactly what to buy? Having a quiz select the most appropriate product for you.
What are ecommerce recommendation quizzes?
Ecommerce recommendation quizzes are interactive content used to suggest products that are best suited for your prospect/user. The quiz maps different questions to specific outcomes, which can recommend products directly from the business' inventory or direct them towards the product purchase page.
Take a look at this quiz from Headphone Zone: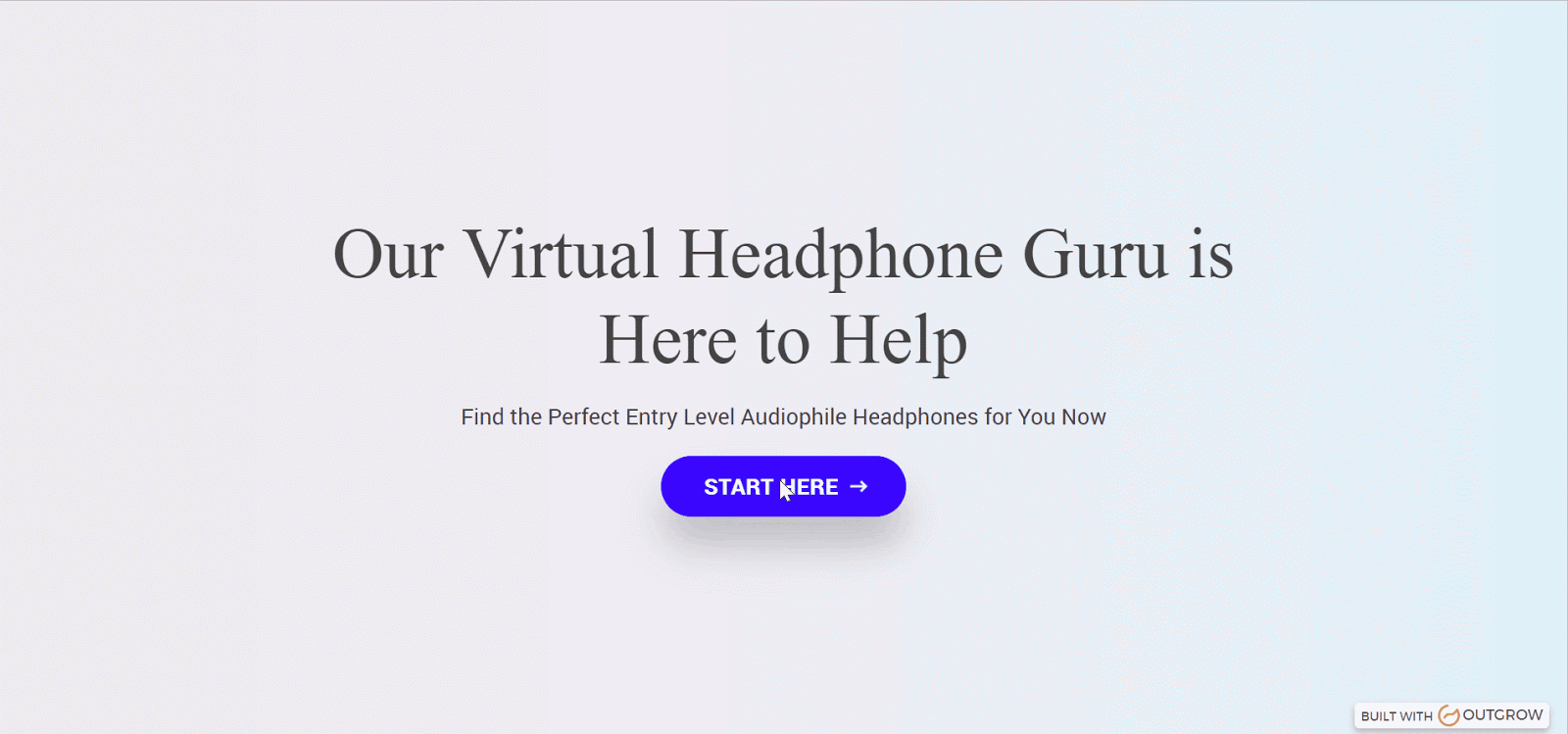 This quiz asks respondents simple questions and recommends headphone products that fit their requirements. Easy, right?
Just because it's easy, doesn't mean it's worth it, though. It's worth it because interactive quizzes have a 2x higher conversion rate than passive content. Moreover, they are 40x more likely to be shared by users.
But why do interactive quizzes, product recommendation quizzes, in particular, result in such a sales boost?
Why product recommendation quizzes boost sales
1. Increased engagement
Consider the following statistics and you will understand why quizzes are intriguing for brands to boost their email engagement:
So, how can your brand stand out in a busy inbox and engage your target audience?
With interactive content.
81% of marketers believe that interactive content grabs readers' attention and engages the audience by providing real value. Quizzes obtain the product best suited for prospects without going through every product in the category, ultimately saving the person time and effort.
Let's assume you are a prospect interested in buying a makeup set. You have a choice between searching through every product and finding the one that suits you. Or, you have a product recommendation quiz do the work for you. Which one would you prefer?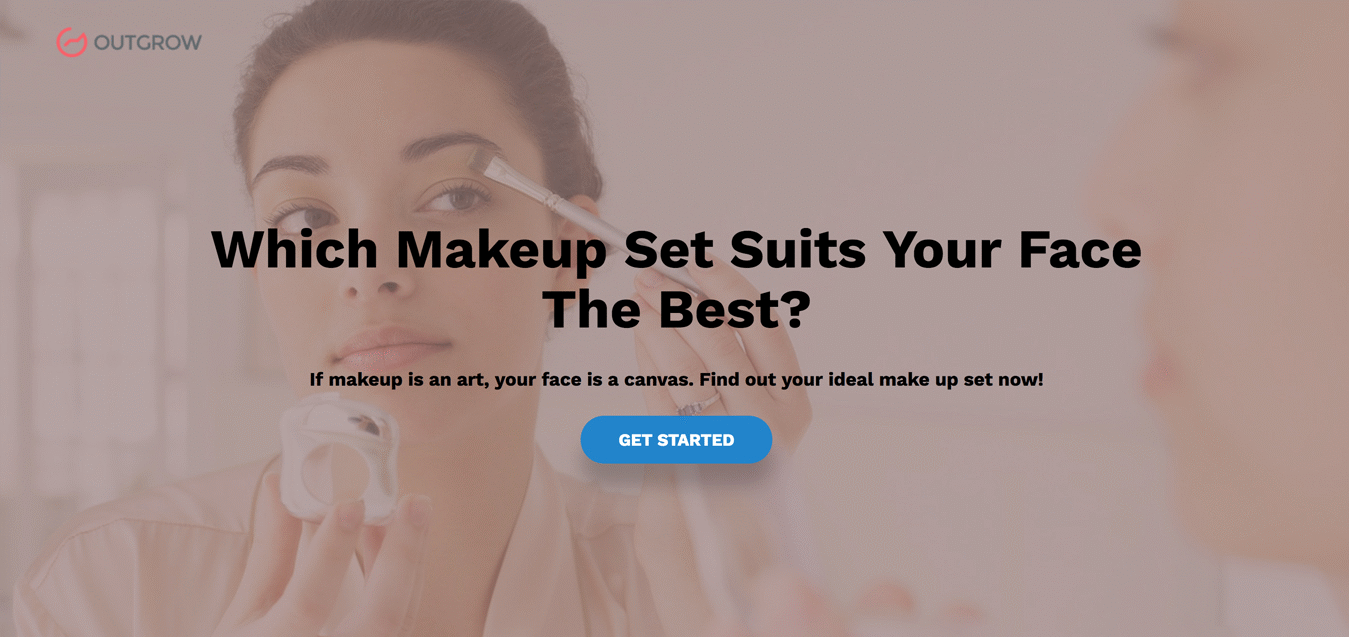 2. Helps with segmentation
80% of shoppers are more likely to buy from a company that offers personalized experiences. Moreover, 71% of consumers show some level of frustration if their shopping experience is impersonal. But how can interactive content help you deliver personalized experiences?
Earlier we talked about how interactive content collects a lot of buyer information. This information can then be used to segment your customers and send them targeted emails (see makeup set example above). Through that quiz, it gathered the information on the prospect's skin type (oily, neutral, or dry). From those details, you can customize specific offers you send them, like discounts on the foundation set that suits their skin best.
3. Detailed buyer personas
58% of marketers believe that interactive quizzes are effective in lead generation.
From the user's perspective, since they derive a lot of value from your content, they are willing to provide additional information about themselves. Consequently, this can help you build a detailed buyer persona and personalize your sales pitch.
For instance, let's assume you're an ecommerce business that sells watches. A product recommendation quiz like this can help you collect valuable information that goes beyond a name and email: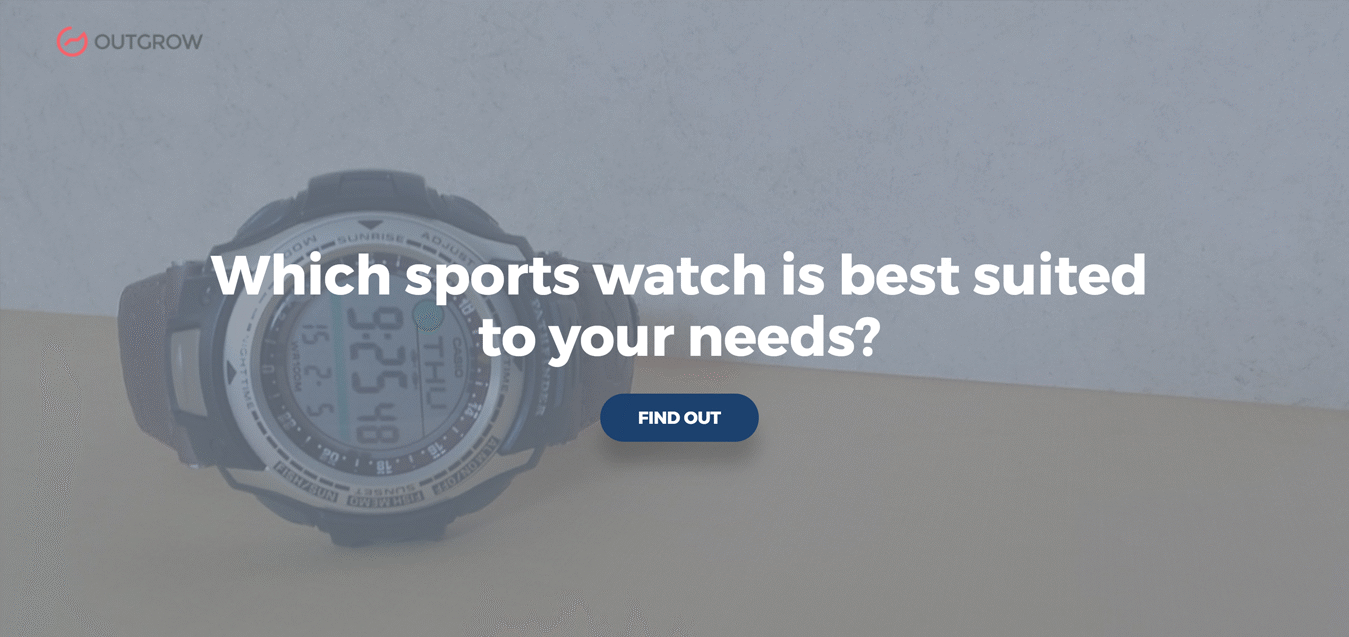 With this quiz, you can gain insights about their budget, job, gender and even their watch preference. All of these details are helpful in sending prospects targeted emails in the future.
4. Higher shareability
Interactive quizzes can go viral on social media in a short period of time because they are click-worthy and designed keeping the user in mind. It taps into the fundamental reason that makes people share things — it engages them.
In fact, an interactive calculator by Nigerian telecom, MTNOnline, was shared 65,000 times: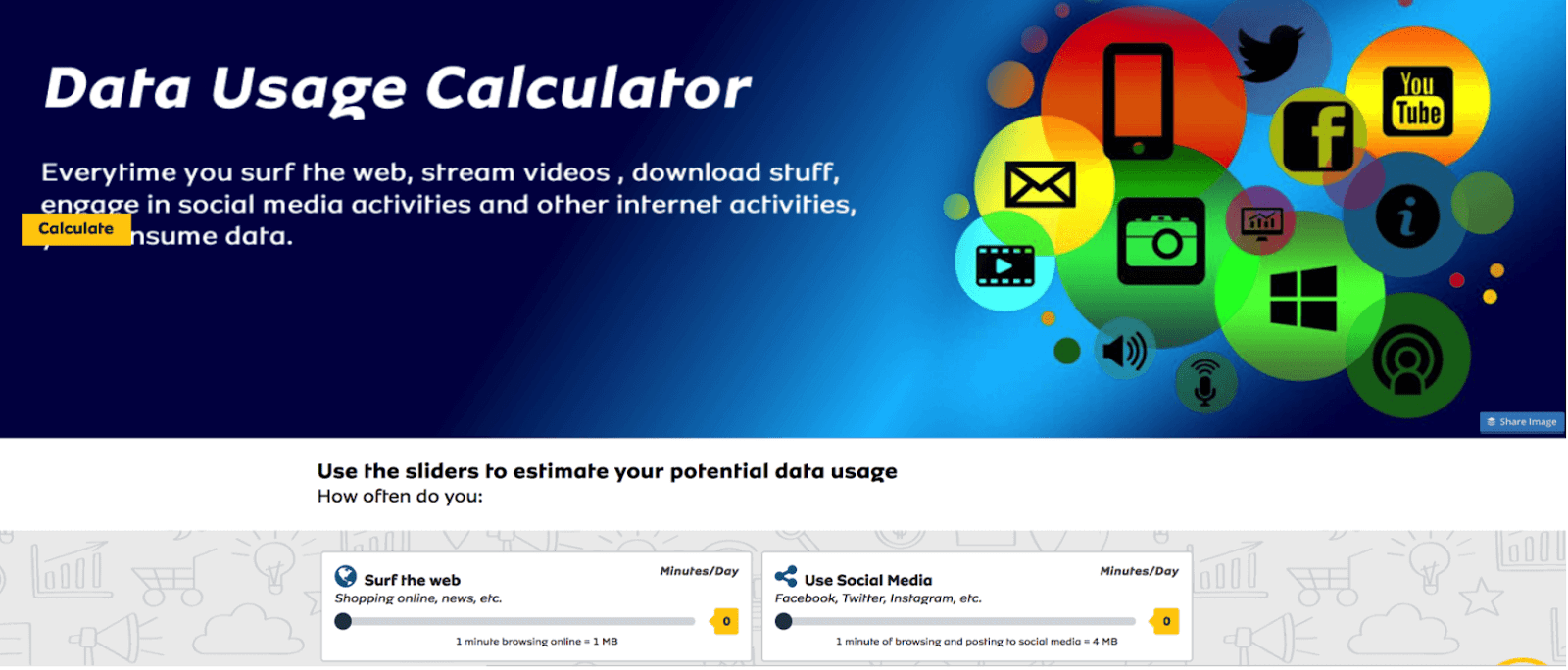 There are no shortcuts to creating quality content. However, you can take some measures to ensure that your interactive content is highly shareable. For instance, you can:
Include social share buttons on the results page
Emphasize the value your users can derive from the interactive experience
Ensure that your experience isn't lengthy or time-consuming
Use the best keywords so you catch the attention of your target audience
Try to create experiences around trendy topics
Imagine the possibilities it holds for promoting your product!
5. Increased personalization
79% of marketers believe that personalization leads to an increase in purchase intent.
But how is interactive content inherently personalized? The user answers each question according to his/her preferences and needs. This results in a unique suggestion tailored specifically to them. Moreover, logic jumps ensure that you don't ask any irrelevant questions from users/prospects.
Example
Assume you own a business in the real estate industry and want to recommend different locations to people according to their geographical preferences. Furthermore, you want to present a different set of questions that are location-specific.
This is where logic jumps will come to your rescue because it ensures that you don't ask irrelevant questions. For instance, presenting different budget options to people looking for a house in New York than someone looking in Texas. But how? It's a matter of mapping to the right questions.
The combination of relevant questions and outcomes is personalization at its best.
Fortunately, it's rather easy to achieve!
Recommendation quizzes can help you boost your ecommerce sales, but to generate the best results from your interactive content, you need to design the content based on proven best practices.
Best practices for ecommerce recommendation quizzes
Content never stops at creation. Effective marketing campaigns involve the right promotion and application. Here are some of the ways you can maximize leads from your ecommerce recommendation quiz:
1. Embed in email
Research shows that 65% of email marketers deem dynamic content as the most effective personalization tactic. Ecommerce quizzes can make your emails more visually attractive and encourage more user engagement by providing better-tailored content. Exhibit A: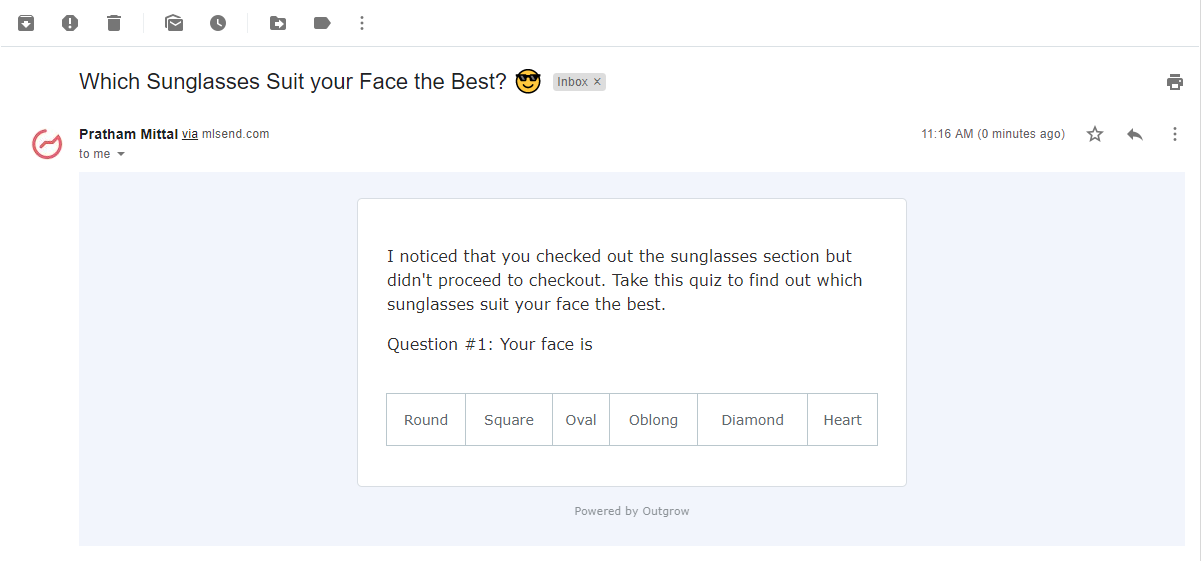 Furthermore, you can embed these quizzes in welcome emails and can customize them for seasonal offers and cart abandonment emails as well. There is no shortage of use cases to test recommendation quizzes with recipients.
2. Embed in retargeting ads
Interactive ads have an average of 3x conversion rates than other formats like video ads, with this number going up to 7x for some campaigns. But, how can you use interactive ads for retargeting?
Suppose a prospect visits the sports shoe section of your ecommerce site but doesn't purchase a pair of shoes. You can retarget them with an embedded quiz titled "Which Sports Shoe Suits You Best?" You can even offer discounts to people who buy products through those ads.
3. Create quizzes around trending events
Google trends is a great resource to collect plenty of content ideas for quizzes (health, entertainment, politics, etc.). Depending on where your company or prospects are located, think of upcoming events and capitalize on their popularity, like Coachella, the Super Bowl, Grammy's, Olympics, elections, etc.
Want to boost the sale of your ecommerce store that sells dresses? Create an effortless quiz like this one: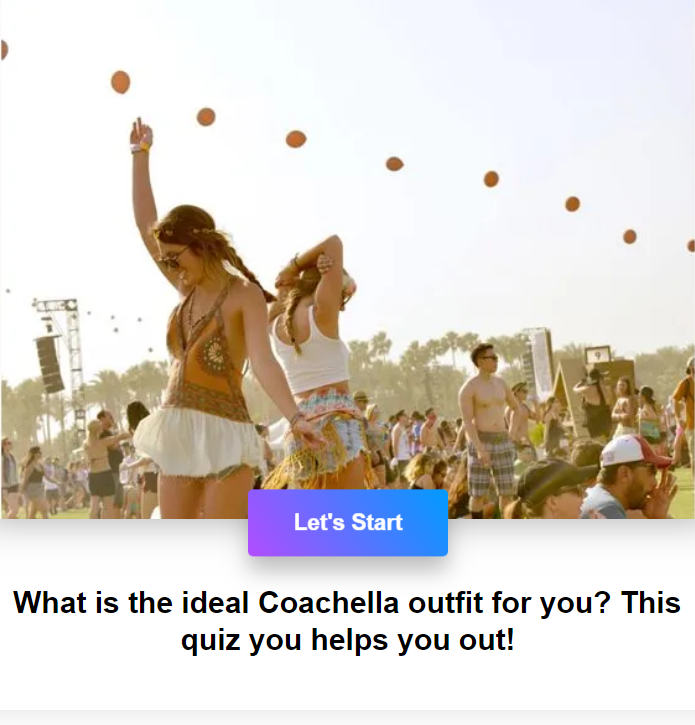 4. Content creation tips
After reviewing many high-converting experiences for Outgrow clients, we've learned what tips tend to produce the best results. So, keep the following points in mind while creating recommendation quizzes (specifically for ecommerce):
Map questions to a buyer's persona and be relevant to their expectations and utilize the logic jump to give the users a seamless experience.
Limit your questions from 3-10 and make the questions skippable because mandatory questions increase the drop out rate.
Humans perceive information in images better than text, so include many visuals pertaining to your product and options available to users.
Use positive language on the results page, since online users prefer to share content that makes them look good on social media. That way, participants are tempted to share the quiz on social channels.
Insert the lead gen form right before the results to generate maximum conversions.
Ecommerce recommendation quiz examples
Brooklyn Bicycles
Brooklyn Bicycles wanted to create a quiz that could help people find their perfect ride. They included only three questions that directly contributed to the purchase. They asked prospects about their terrain, purpose for buying and their preference.
The quiz is extremely engaging, quick, and looks professional, too: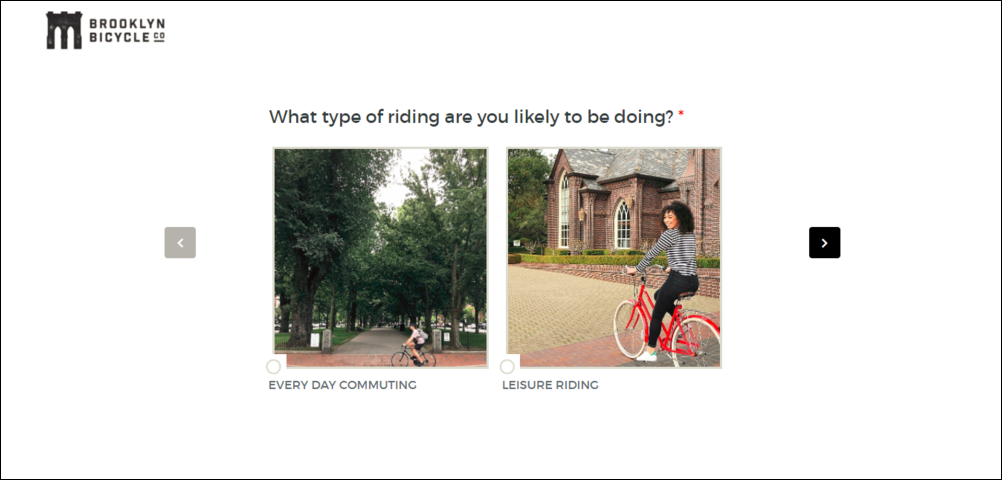 What do the numbers say?
Brooklyn Bicycle's clients shared the quiz in email messages and social media pages, generating 3,225 visits and 1,151 leads in about 6 months (36% conversion rate).
Ellen Hutson
Quizzes can be just as helpful as they are fun, demonstrated by this quiz from Ellen Hutson below: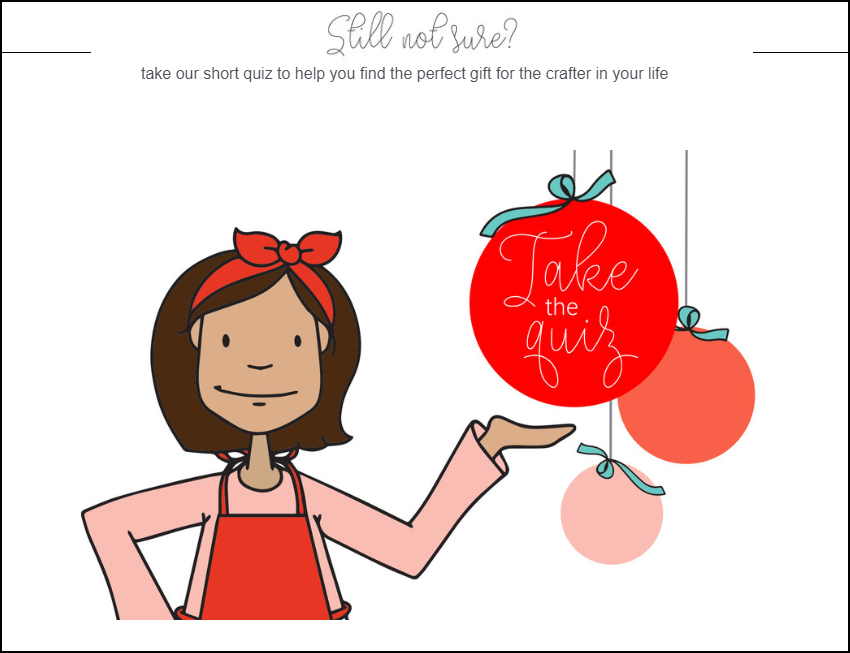 The marketing team at Ellen Hutson wanted to eliminate the paradox of choices that causes customer fatigue and aimed to provide a limited number of options to prospects. Consequently, they created an ecommerce recommendation quiz to streamline the customer journey.
This quiz helped the users pick just the right craft tool for their every need. For instance, beginners received recommendations on easy to use craft items (5" precision scissors, ink pads, stamping tools, etc.) The minimalistic design combined with its promptness makes it a great example for an ecommerce recommendation quiz.
Conclusion
Interactive quizzes have existed for a while but are often overlooked as an effective lead gen strategy. They are inherently personalized and function as highly effective lead magnets. Moreover, their potential for boosting ecommerce sales are tremendous.
These quizzes are only a small component of the user's journey, though. Once they've completed the quiz, what is their next step? How do you provide relevancy beyond the quiz?
See how the Instapage Digital Advertising Cloud™ is unique and enables you to create 1:1 personalized experiences for every audience.
About the author
Etee Dubey is a full-time content marketer at Outgrow and a part-time dreamer. In her free time, she catches up with her reading and often finds herself explaining the meaning of her eccentric name to people around her.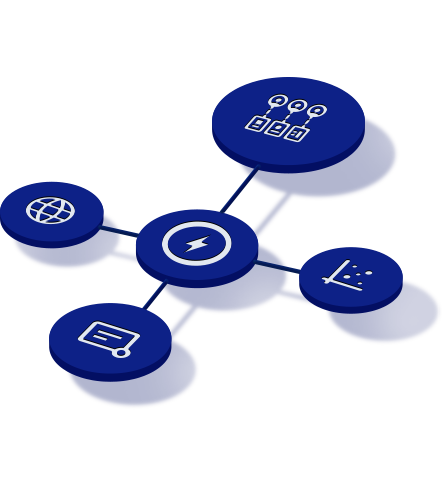 See the Instapage Enterprise Plan in Action.
Demo includes AdMap™, Personalization, AMP,
Global Blocks, heatmaps & more.