Post-click automation (PCA) is a new service that allows advertisers to personalize the ad campaign, end to end, and scale like never before.
While the benefits to the average marketer are great, they're several times greater for an agency. The average marketer handles a single account. An agency, however, gets that in each client they manage.
Without PCA, 1:1 personalization is near impossible for every client's customers. With it, however, it's not only possible, but it's far easier than you'd imagine. Learn how below. And if you want to learn more about how to offer PCA as a service, get the new ebook from Instapage and HubSpot: Closing the Gap Between Clicks and Conversions:

8 Ways PCA can make running client campaigns easier
Scale personalization across accounts
As more and more consumers demand personalization, the pressure is on to ensure every marketing tactic is relevant to the consumer. No one is feeling this pressure more than agencies.
Where in-house teams have the benefit of working with a single audience to segment into refined groups, agencies do not. Instead, they're challenged with meeting the needs of a wide variety of audiences. And they're expected to achieve the same level of personalization.
With traditional tools, creating 1:1 post-click landing pages is highly difficult at best. But it's necessary. Ideally, every member of your audience would have a post-click landing page that is as personalized as its referring ad.
Post-click automation allows you to skip the search for a marketing stack that can provide end-to-end personalization. With a single personalization tool, you'll be able to create a different experience for every audience segment.
Simply navigate to your experience manager and design a post-click landing page for your first segment: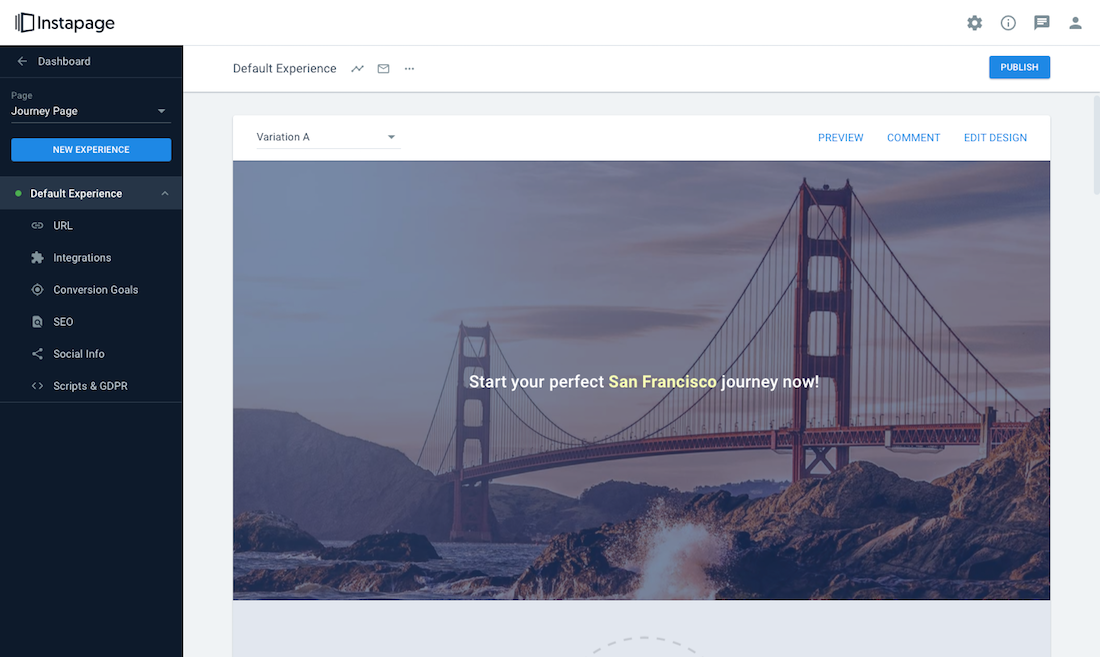 Then, generate corresponding UTM parameters that, when met, will drive visitors to the landing page: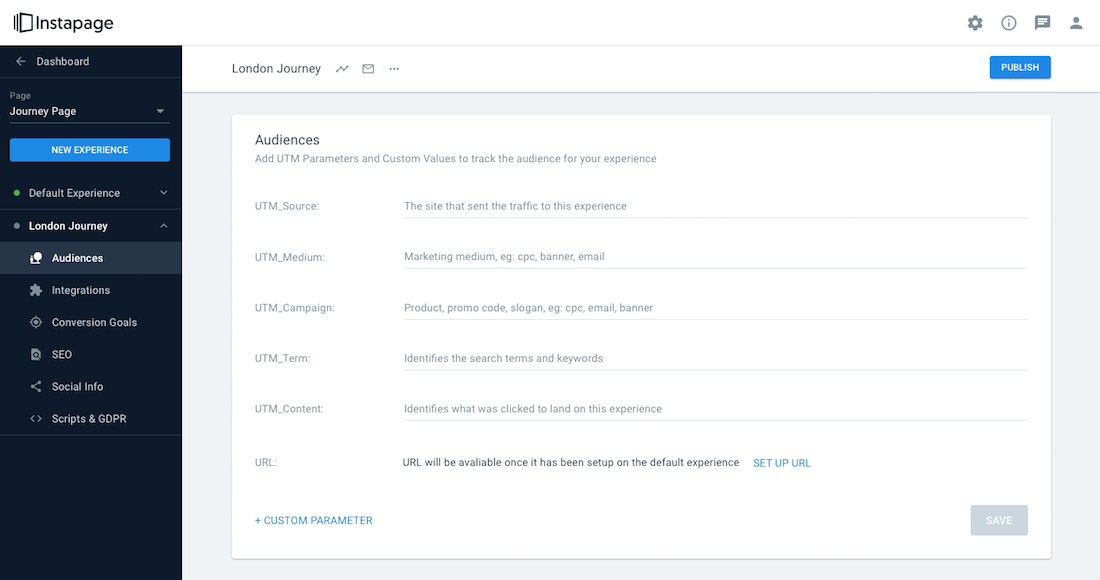 You can repeat the process for as many segments, as detailed as you like: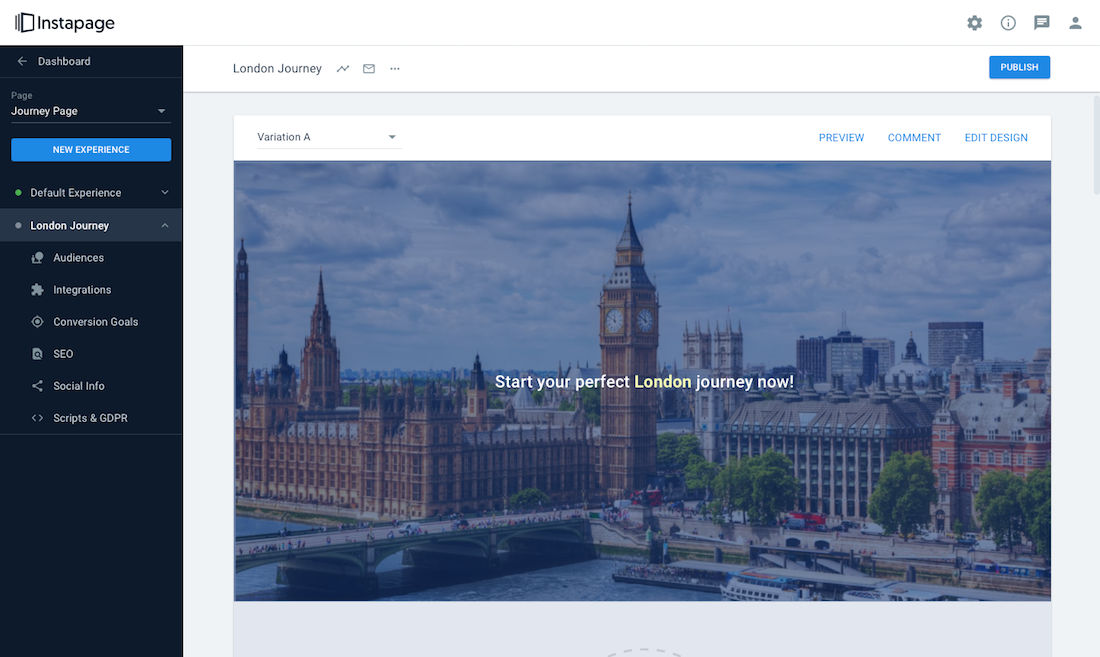 The narrower your segments, the more you're able to tailor your experiences, and the better personalization you can provide to your visitors.
Stay organized with ad mapping
When an ad is changed — the copy, media, targeting, etc. — the corresponding landing page must be as well. This is what keeps consistency throughout the campaign. It reinforces trust with message match while also providing personalization that users expect.
However, when you're creating several landing pages for each campaign, it becomes near impossible to track what changes must be made to keep ads and landing pages matched. That's especially true when many agencies still track these changes in siloes. Landing pages are stored in one place, ads in another.
With PCA, it's easy to match ads to post-click pages. An AdMap™ feature allows users to import Google Ads account data into a dashboard, where ad groups and ads for each campaign are visible. From there, staying organized is as simple as clicking to match post-click landing pages with their pre-click ones, which makes tracking changes throughout the entire campaign easier than ever before: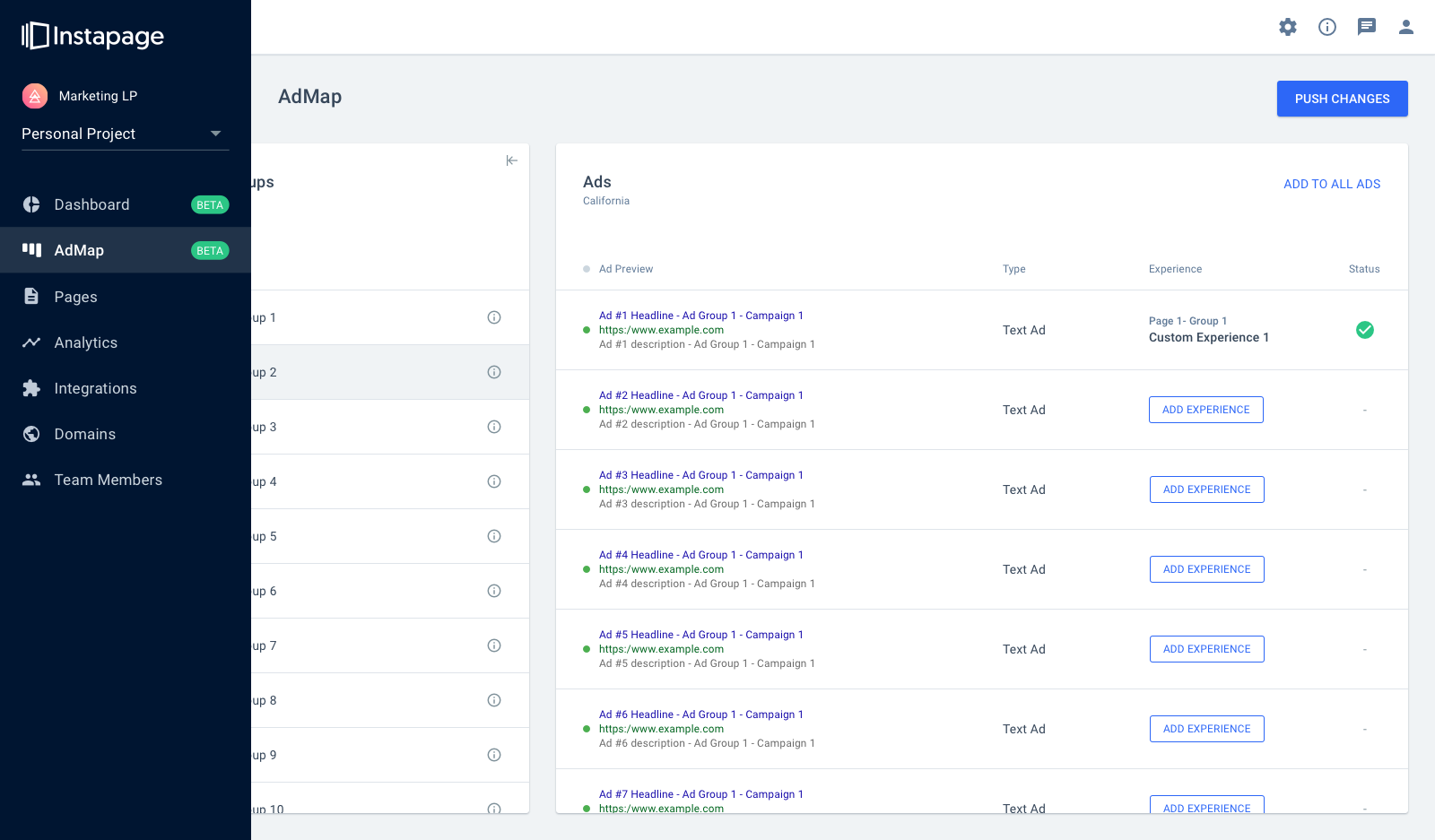 Continuously prove value
For digital advertising agencies, there's very little room for guesswork. You either produce results based on solid analysis or get dumped by your client. This makes tools for analysis and reporting crucial to campaign management.
Post-click automation gives you these tools. To prove the value of your marketing activities, and justify spending on new ones, you get a robust dashboard that reports key performance metrics for every page you create, including variations.
On top of traditional metrics, integrations with PCA allow for the collection of any data you want, so long as it is available in another platform. PCA integrations with the majority of the most popular analytics software available.
Uncover campaign deficiencies
Proving value doesn't stop at reporting and analysis. It continues to optimization. Campaigns, no matter how well they start, always have room for improvement. Sometimes, though, determining what to improve can be challenging.
While analytics dashboards can provide loads of optimization ideas, they can't tell the whole story of a user's experience on your post-click pages. For additional, nearly qualitative data, post-click automation tools come with heat mapping built-in.
With heat mapping, track a user's behavior on your landing page with a visual representation of mouse movement, clicks, and scroll depth.
With a mouse movement map, see where your users have hovered their cursor on the page: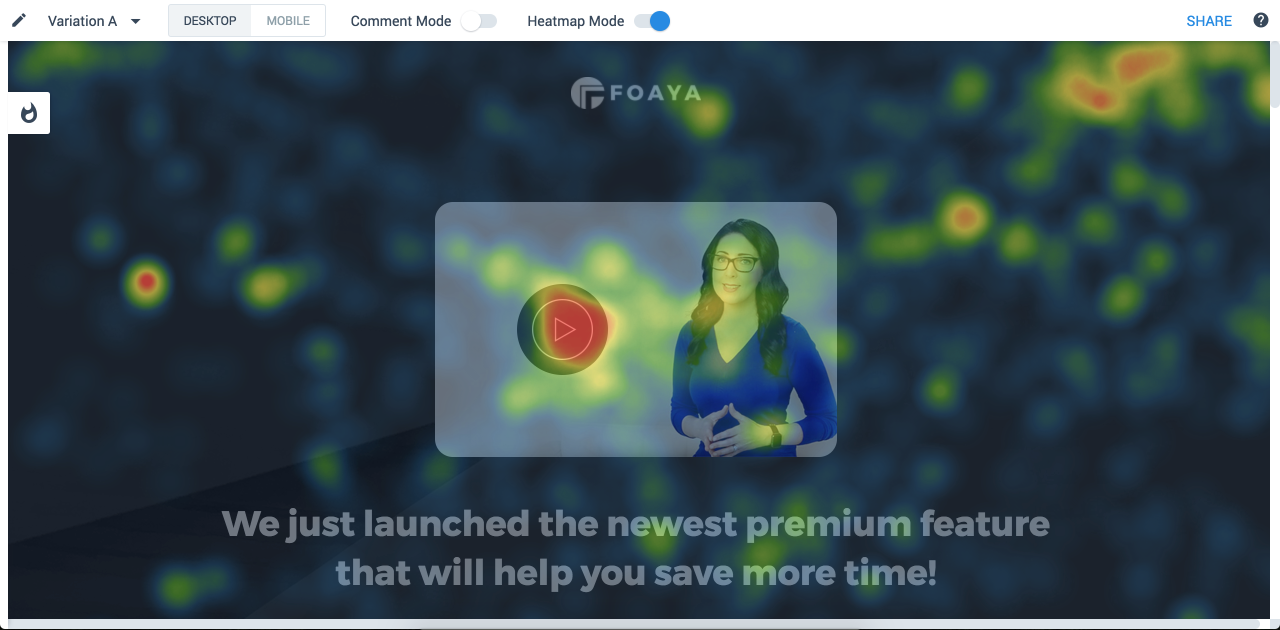 With a click map, see where your users have clicked on your page: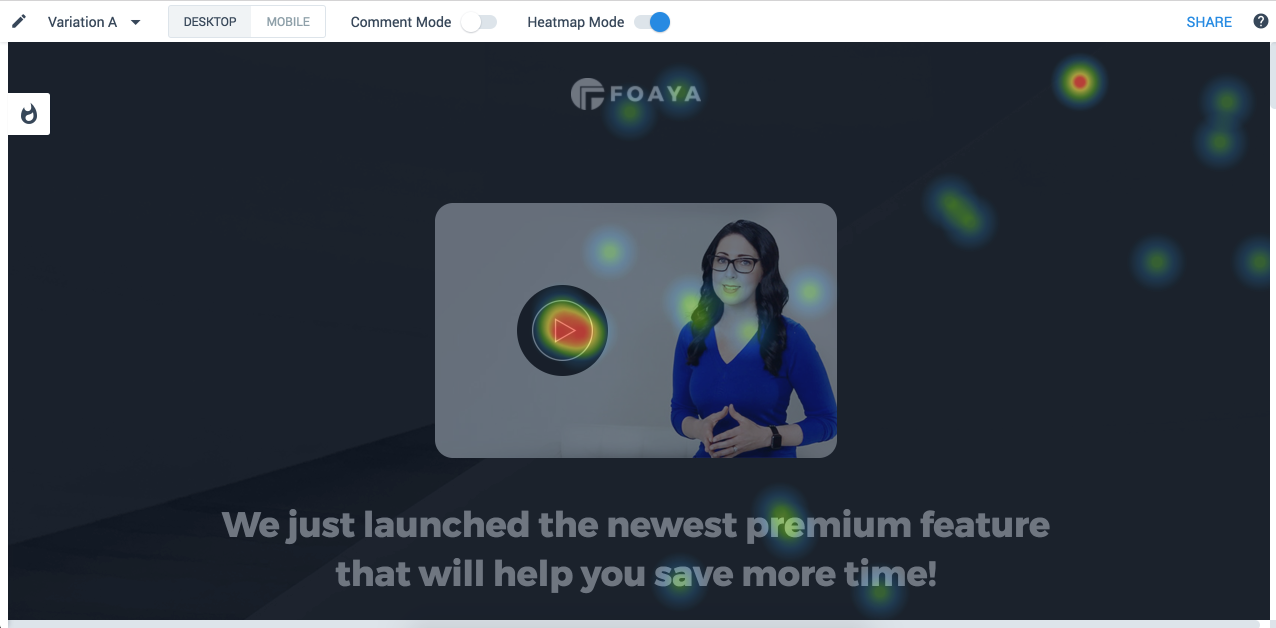 With a scroll depth map, see how far your visitors scroll down the page: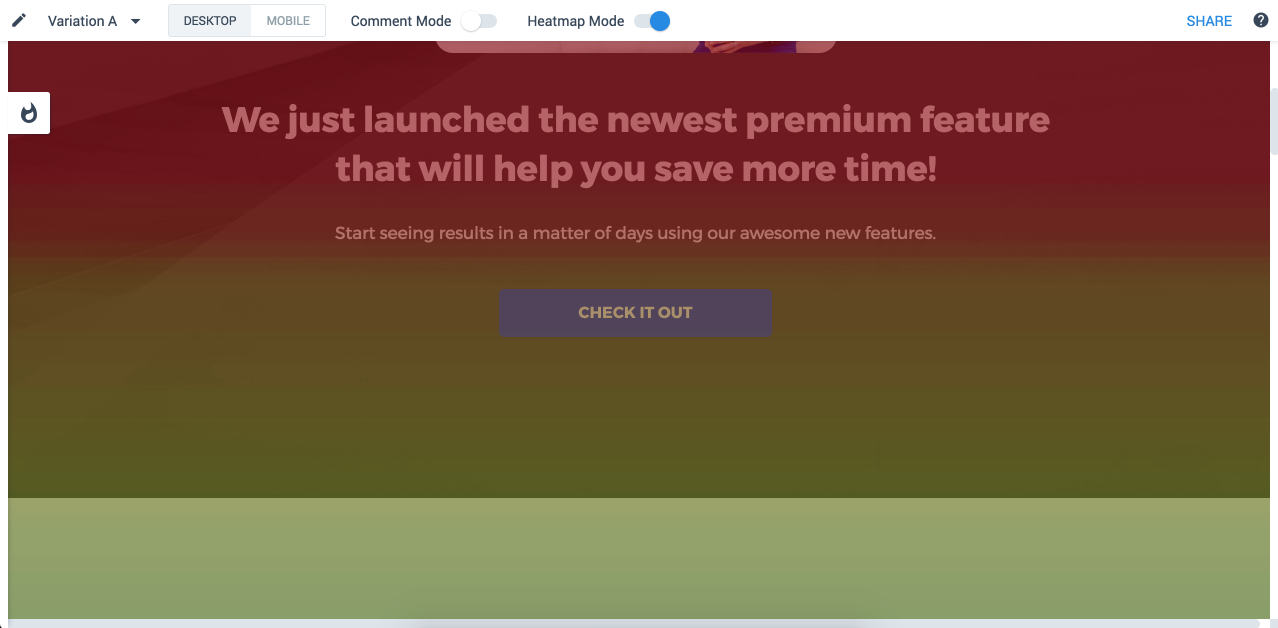 These three types of heat maps can uncover and display insights in a way raw data can't. And when combined with quantitative data, they can form the basis for highly effective optimizations.
Optimize for conversions with confidence
While identifying room for improvement is the foundation of optimization, it's still only beginning. Once you've hypothesized which optimization will bring more conversions, you have to go about testing it through rigorous experimentation.
Often, this requires different tools with a steep learning curve. With post-click automation, an intuitive testing tool comes built-in.
Navigate to the page you want to test and click "Create A/B Test," and it will create a variation page that you can edit to test your hypothesis. Each variation comes with five options you can select throughout your test:
Duplicate: This will allow you to copy that specific variation when creating a new test.
Delete: This will allow you to remove that variation completely (all optimization stats will be deleted) Note: variation A cannot be deleted.
Rename: This will allow you to change the variation name.
Transfer: This will allow you to transfer the variation to another landing page.
Pause: This will allow you to temporarily prevent page visitors from seeing this variation.
As your test runs, you'll have access to a dashboard designed specifically for A/B testing, where you can check on metrics like:
Conversion Rate: The percentage of visitors that converted on the page variation.
Improvement: The difference in the conversion rate tested against the Base variation. Example: If version (A) has a 20% conversion rate and version (B) has a 25% conversion rate, your Improvement would be +5%Conversions.
Unique Visitors: The number of unique visitors to the landing page variation.
Number of Conversions: The number of visitors that have completed your goal action, like clicking a CTA button.

With the help of an A/B testing feature, you can not only create successful client campaigns but improve them to further your value to key accounts.
Making widespread edits to client pages
Client campaigns evolve often. And you never know what will need editing next. It could be something as small as a new CTA, or as large as a complete rebranding.
Whatever it is, chances are slim it's only going to impact one page. Most likely, it will be groups of pages that need updating, especially if you're creating one post-click page per audience segment.
Normally this would require a designer to, one by one, manually edit each page. Depending on the scope of editing, this could take days or even weeks when combined with other tasks.
For those who refuse to waste valuable resources on such tediousness, PCA has a solution: global editing. Global editing is a feature that allows agency staff to edit groups of pages from one place.
Whether you're changing a CTA after a winning test, or copyright information to reflect the current year, global editing turns a days-long job to a near-instant process.
Improve collaborative design efficiency
Unless you're a one-person agency, client work is completed by a team. Whether that team is 2 or 100+, collaborative efficiency is crucial. Juggling multiple campaigns for multiple clients is commonplace. When each campaign's audience needs its own post-click landing page, a backlog can very quickly build up.
To move at the speed of advertising, agencies have to ditch the old way of designing post-click landing pages. No more long email chains and marked-up screenshots. No more round after round of disorganized edits.
The design must be fluid. Teams must be agile. PCA enables this agility without compromising on quality.
A collaboration solution allows team members to work on the same post-click landing page. Choose from a template or create a wireframe, and make edits no matter who you are. Developers, designers, copywriters — even clients and account managers — can edit, comment, and track changes as they come. Permissions can be granted for different levels of access, and an audit log reports every adjustment made to hold team members accountable, and to make client errors easy to identify and fix: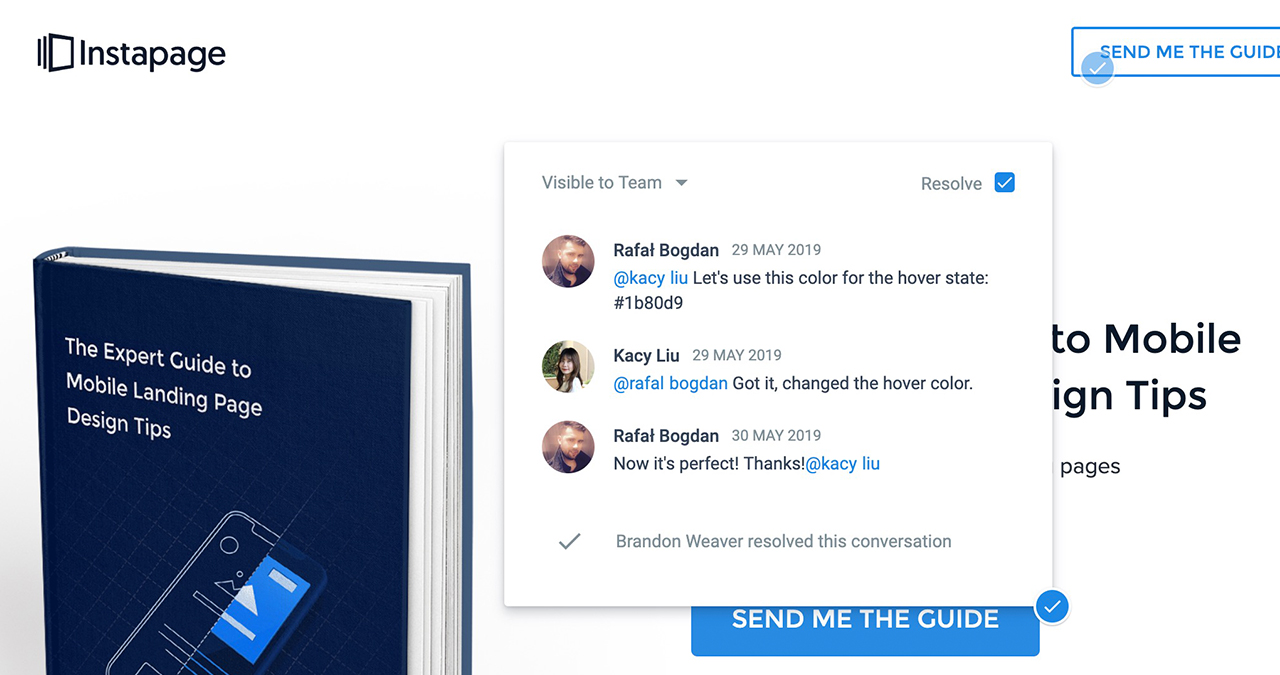 Stay on-brand with a pixel-perfect builder
No agency is lucky enough to represent clients that have all the same brand specifications. Fonts, design schemes, colors, and more, will be different across all client accounts.
Providing on-brand 1:1 personalization for each client requires a level of customization that would be near impossible without PCA software. Teams of developers, designers, copywriters, and account managers would come together to ensure each page met brand specification.
With PCA software, no matter who you are, you can create a professional, on-brand post-click landing page with the help of an intuitive builder featuring design capabilities like:
Adobe and Google Fonts: Choose from an array of fonts to match your client's brand.
Alignment and grouping: Select and move multiple page elements and resize them — while keeping their aspect ratio.
Edge Measurement (see GIF below): Measure the pixel distance of an element or group of elements from another element, group of elements, or the boundaries of your post-click landing page.
Axis Lock: Using a keyboard shortcut, you can lock an element or group of elements to only move within the horizontal or vertical axis.
Keyboard Shortcuts (aka "hot keys"): Use keyboard shortcuts to perform common or repeated actions within the Instapage builder, i.e., group elements, move elements by 1 or 10 pixels, send to back or front, and add new types of elements.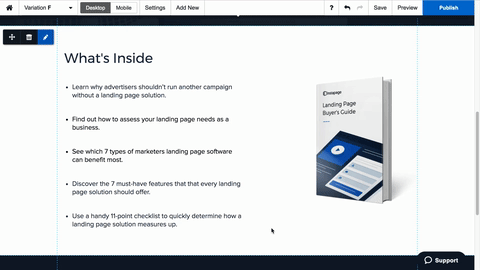 Any client page you create from a template or wireframe can be saved for later use. And any page section you create — like an image, or a block of copy — can be saved and inserted into other pages to cut down on creation time.
PCA is necessary for the modern digital agency
While PCA can help any agency increase their productivity, it's more a necessity now than ever. Find out why your clients demand post-click automation, and how you can add more to your bottom line by offering PCA as a service in the HubSpot and Instapage ebook.