In our initial Postclick interview with CEO & Founder, Tyson Quick, he highlighted the increase in global advertising spend: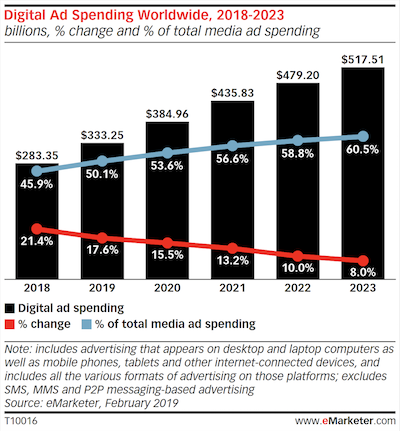 But it's not a matter of increasing spend to "get more clicks." The mentality should be to increase conversions and get a higher conversion rate.
Too many companies settle for subpar results; part of the problem is that pre-click continues to dominate the attention. Post-click is where the conversion happens.
In completing our interview series, today, we talk with post-click conversion writing experts Dan Nunes, Suzan Revah, and Erik Smolin in how they continue the ad narrative using persuasive messaging.
What are your roles with Postclick?
ES: As Senior Copywriters at Postclick, our focus is on the post-click side of digital advertising, specifically conversions. We create relevant, highly-personalized, landing page experiences for each of our clients' ads and audience segments — leading to a marked increase in their return on advertising investment.
What is your advertising copywriting experience?
DN: I started as an advertising copywriter for a consumer electronics retailer in the Bay Area writing product copy for bi-monthly print advertising campaigns and scripts for broadcast media commercials.
Next, I worked for an events company, Softbank Forums, on exhibitor and attendee marketing campaigns for Networld+Interop and Comdex. I then transitioned into the digital space as a website copywriter with a couple of early dot.com start-ups.
And for the last 15+ years, I've worked on digital, video, and print campaigns for large enterprises, Check Point Software (network security software), Autodesk (design software), and most recently, Riverbed (network and applications performance hardware/software).
SR: Mostly in-house creative and marketing agencies, with a specialization in re-brands. My content journey began in journalism, before turning to user experience and content strategy, then content marketing. I ask a lot of questions!
ES: I'm a digital advertising expert specializing in conversion-centric copywriting. I have more than 20 years of experience working both in-house at large Bay Area-based tech companies and boutique advertising agencies.
What makes your copywriting team unique from an agency team?
DN: Our team provides decades of combined experience that gives us the ability to understand different industries while diving deep into what makes our clients business unique in their market. We employ a data-driven approach based on targeted audience segments that leverage psychology backed persuasive writing techniques to create high-converting advertising and landing page copy.
SR: We bring a certain objectivity to the equation because, in a sense, we are "client-agnostic." We have a specific approach that is data-driven, approaching the landing page experience from both a quantitative and qualitative perspective to drive out the most compelling narrative.
ES: We are the ultimate conversion experts. Collectively our team has more than three-quarters of a century worth of experience and a deep understanding of human psychology, crafting conversion-centered content, and narrative storytelling. Plus we utilize our cutting-edge technology, the world's first Advertising Conversion Cloud™, coupled with our proprietary conversion intelligence to inform and scale landing page experiences. This winning combination delivers maximum conversions for every customer.

What opportunities do you look for to increase conversions?
DN: I look to establish the personas for the audience segments. Create symmetry from ad to landing page to action. And then test headlines, CTAs, layouts, etc., refine, test, refine…
SR: When message-matching ads to pages, we go beyond the demographic data to look for motivational and behavioral indicators.
ES: What we do here at Postclick has never been done before—matching ad messaging to personalized experiences on a massive scale. So opportunity abounds. Considering that over the last decade, $870 billion has been wasted on digital ads that didn't convert, we see nothing but opportunity ahead. The current industry conversion rate is a paltry 4 percent. However, we're able to quadruple that rate: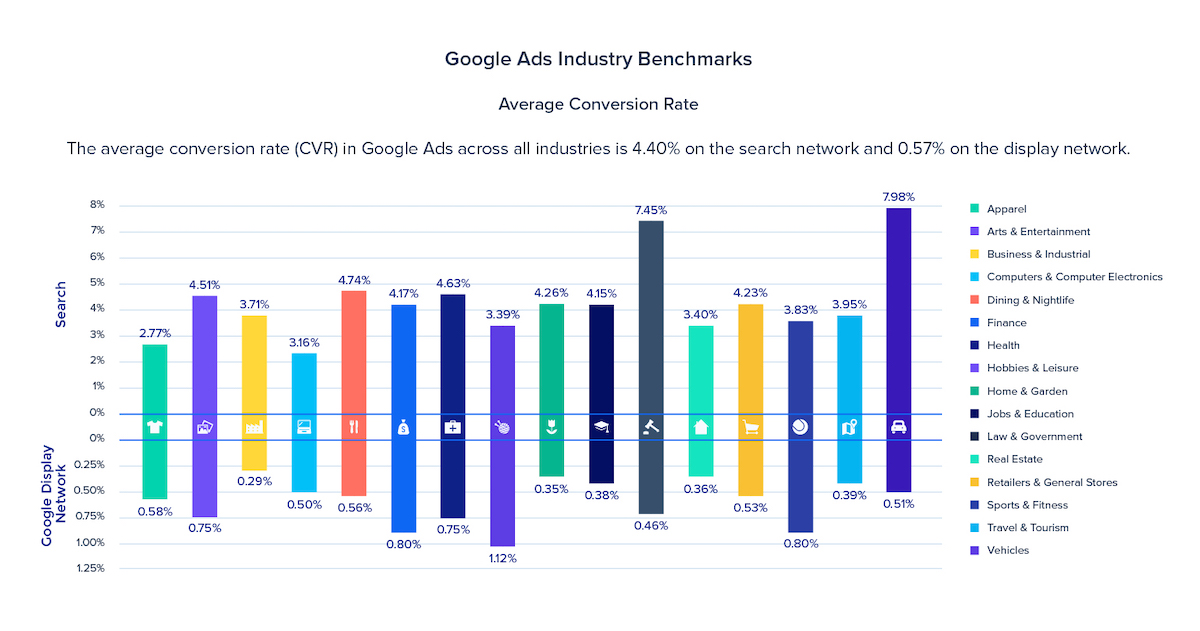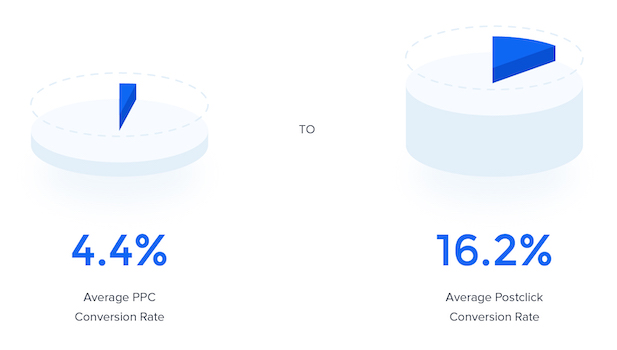 As a result, we foresee huge opportunities to help a multitude of companies win the digital advertising game.
Do you have an example of increased conversions as a result of updated copy?
DN: I have absolutely seen conversions escalate after testing and updating copy, especially if the copy can be personalized to target specific segments.
SR: I've seen conversions take off with the rollout of a new brand, launching personalized content where none previously existed. The trick is to systematically and continuously test, adapt, and refine based on a steady stream of new learnings.
How much collaboration is there with clients?
DN: Clients want us to be successful — if we succeed, then they succeed — and the key to that success is to be an extension of their brand. The more we can collaborate with the client, the better we can optimize their brand.
SR: Collaboration is the key to surfacing all the insights that make Full-Service so robust. Our goal is to make the Postclick conversions team an extension of the client's brand, and all hands are required to achieve that.
ES: Think of our team as an extension of a company's brand. Initially, we work very closely with clients during the onboarding period. At this stage, we learn about a brand's unique voice, tone, look, and feel as well as its market positioning, key sales points, and objectives. We then produce a prototype for approval. Once that's complete, we begin creating all their personalized landing pages. There are monthly check-ins on performance, of course. But for the most part, brands trust us to effectively execute with very little to no oversight.
How do you collaborate with the rest of the Full-Service team?
DN: This is a team effort, from sales and conversion analysis to customer success and copywriting, to design and development. Once we kick things off with a new client, the team collaborates to understand the brand voice, the target audiences, and personas. We rely on each other to deliver high-converting, persuasive landing page copy that meets our clients' goals.
SR: We get a thoughtful and careful handoff of strategic data indicators to inform our content narrative, and we consider every aspect of the landing page experience to be "content," so we work in tandem with all aspects of design.
ES: We work closely with our Director of Conversion Strategy, Mike Perla, to surface a client's visitor-level data like search terms, firmographics, and demographics. Then we use this information to build a streamlined persona considering each consumer's emotional factors — things like their motivations, pain points, needs, wants, and goals. Then I craft unique conversion-centric landing page narratives that reflect this information.
Next, I send the content to our design and development teams who create, QA, and deploy each hyper-personalized post-click landing page.
What else should brands know about Full-Service?
DN: I've worked with a lot of smart, talented people and teams over my career, and this Full-Service team is one of them. These are passionate professionals committed to making digital advertising experiences more relevant and effective for all of our clients.
SR: Creating relevant post-click landing pages for every ad and audience isn't easy. But the results are worth it.
ES: Getting clicks is easy. Transforming those clicks into conversions is the real challenge. Why? Because every ad and every audience needs a unique, personalized, post-click landing page to be effective. And sadly, many brands just don't have the time, staff, or expertise to make this a reality. So sales inevitably suffer.
Even if brands wanted to hire a dedicated full-time employee or assemble a team to execute their post-click efforts, our tech-enabled service is far more cost-effective. Plus, it includes a dedicated team of proven experts to handle everything from strategy, to copy, to design, to development, to testing and beyond — enabling our customers to turbocharge their return on advertising investment.
Talk to the Postclick team
Complete the short form here to see if your company is a good fit for the Postclick and the Full-Service solution.